Google aims for TV everywhere, Netflix rides along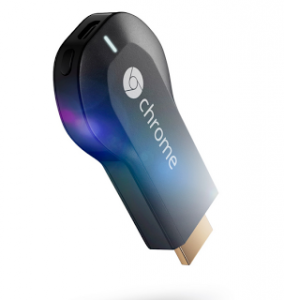 Google is dreaming big, but those fantasies are no larger than ones held by cord-cutters everywhere. We wish for TV without the cable or satellite and services like Hulu, Netflix, Amazon Prime and others aim to deliver the experience. Now Google tosses its own hat into the ring.
"Today, with the launch of Chromecast and the new Nexus 7 tablet, it's even more effortless to enjoy content you care about—whether it's video, music, movies, games—wherever you are, across your devices".
Chromecast is a small and affordable device that you can simply plug into your high-definition TV, and it will allow you to use your phone, tablet or laptop to "cast" online content to your TV screen. It works with Netflix, YouTube, Google Play Movies & TV, and Google Play Music, with more apps like Pandora planned for the future.
Once setup is complete, all of your devices send content to the TV and control everything from Play-Pause to volume. "It works across platforms -- Android tablets and smartphones, iPhones, iPads, Chrome for Mac and Windows (more to come), so your personal device is also now your remote control", the company promises.
Netflix also rides along with the device, though customers will need a subscription. However, a free trial will be available for this. Retail is $35, and launch is planned for July 28.