Motorola announces the Moto X -- Android users get wood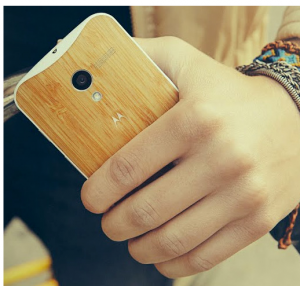 When Google bought Motorola, the Android community was abuzz with excitement. Motorola is a world renowned class-leader in quality. With that in mind, the world waited for a mythical and epic smartphone to be released as a result of the marriage. Unfortunately, while Motorola did release great phones such as the Droid Razr HD, these were not the Droids we were looking for. Today, Google and Motorola announce the Moto X, hoping to deliver on the high expectations.
The tagline for this new smartphone is "All Yours" -- this is because you can customize the phone to your liking. According to Motorola, the smartphone "...is truly yours, because you design it. Through our online studio, Moto Maker, you choose the colors, and decide on the details: front, back, accents, memory, wallpapers, even add a name or a short message. When you are done, we assemble your Moto X right here in the USA and ship it to you for free in four days or less. Choose from more than 2,000 possible combinations, with more to come. We'll be constantly exploring new offerings, such as real wood backs, starting later in the year".
Yes, you read that right;  you can get a wooden chassis. Hopefully the Moto X does not get termites -- it would bring a whole new meaning to the word "buggy"!
While the customizations are exciting, it is just one of the major selling points of the Moto X. Another is the tight integration with Google Now. If you aren't aware, Google Now is like Apple's Siri -- on steroids. It is a virtual assistant that can make your life easier. However, unlike Siri, Google Now learns about you through Google's services. Like magic, the Moto X will learn where you live, what sports teams you like and more (a bit scary at first but ultimately awesome).
While Google Now is available on other Android  smartphones, the Moto X focuses on interacting through voice. The virtual assistant is summoned by saying "OK Google Now". Motorola says the device "...is ready when you are. It responds to your voice - no touching necessary. With Touchless Control you can check the weather, get directions, or do just about anything without lifting a finger. Moto X doesn't guess like other phones do. It knows".
While this looks like a great feature in demos, it remains to be seen how it will work in real life. Apple's Siri looks great in demos and commercials too, but is considered to be a gimmick, at best, by some.
So, the customizations and voice interaction are great. However, this is Android we are talking about -- these users like specs. Luckily, the Moto X does not disappoint:
Display --  4.7" AMOLED (RGB) / HD 720p
Rear Camera -- 10MP CLEAR PIXEL
Front Camera -- 2MP 1080p HD video
Battery -- 2200 mAh.
Operating System -- Android 4.2.2
CPU -- Motorola X8 Mobile
RAM -- 2 GB
Storage -- 16GB or 32GB
Unfortunately, Motorola will soon be launching a new line of Droid phones for Verizon that are very similar if not better than this device. Consumers may have a hard time deciding which phone to buy. While the customizations of the Moto X are cool, some people put a case on their phone, which would cover the custom-design anyway.
According to Motorola, "Moto X will be available in the US, Canada and Latin America starting in late August/early September". Will you be buying it?