First Jelly Bean iteration is the most popular Android distribution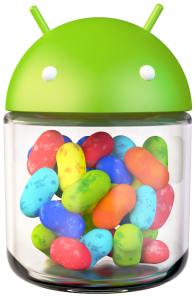 Jelly Bean continues its dominance streak in the green droid distribution charts, with Android 4.1 alone surpassing the former ruler, Gingerbread, based on the number of devices visiting Google Play during the 14 days ending August 1.
In the latest charts, combined, the first two Jelly Bean iterations, Android 4.1 (34 percent) and Android 4.2 (6.5 percent), reached a 40.5 percent distribution level, which represents a 2.6 percentage points increase (from 37.9 percent) over the previous data set from early-July. By contrast, Gingerbread (versions 2.3 to 2.3.7), accounted for a lesser 33.1 percent share, which is one percent lower compared to the numbers -- 34.1 percent -- released a month ago.
As software upgrades from previous iterations have slowed down, Android 4.1's growth (from 32.3 percent to 34 percent) can be attributed to sales of new devices, like the HTC One and Sony Xperia Z. The same -- device sales -- applies to Android 4.2 (rose from 5.6 percent to 6.5 percent), however, in its case software upgrades have also had an effect over the increase in distribution level.
Android 4.3, the latest member in the Jelly Bean family, has yet to make an appearance in Google's Android distribution charts, likely because it accounts for less than 0.1 percent -- the minimum requirement for any iteration to be taken into account -- of all devices visiting the Play store in the respective period.
Ice Cream Sandwich (Jelly Bean's predecessor), versions 4.0.3 to 4.0.4, reached a 22.5 percent distribution level, which is 0.8 percentage points lower compared to the previous data set (23.3 percent). The decrease can be attributed to sales of the new devices and software upgrades, both of which skip past Android 4.0 altogether, and sport a newer distribution. Its descent will continue. Similarly, the same causes apply to previous distributions as well.
As I mentioned last month, the tablet-Honeycomb is on its way out of the Android distribution charts. It only accounted for a mere 0.1 percent share -- same as in the previous data set -- of all registered green droid devices, a number which is on a par with the minimum requirement that must be satisfied in order to be included in the charts. This condition is unlikely to be met after the next couple of months.
Combined, Froyo, Eclair and Donut -- the oldest sweets in the Android charts -- account for a 3.8 percent distribution level, which is 0.8 percentage points lower when compared to the 4.6 percent share posted in the previous numbers from early-July. Donut, similar to Honeycomb, is likely to exit the charts in the upcoming months.