Sony unveils the Xperia Z and ZL, two new smartphones with Jelly Bean onboard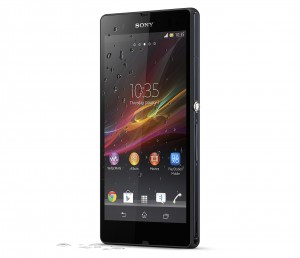 Right before the big opening day at CES, Japanese manufacturer Sony took the wraps off two new Android smartphones -- the Xperia Z and Xperia ZL. Both sport similar under-the-hood specifications but different looks on the outside. Likely making up for the late upgrade schedule for previous Xperia handsets, Sony is adamant that it will update both smartphones from Android 4.1 Jelly Bean to the second Jelly Bean iteration "shortly after launch".
The Xperia Z and Xperia ZL follow smartphones like the HTC DROID DNA and Oppo Find 5 in delivering large 1080p displays paired with quad-core processors. Both handsets feature a 5-inch TFT panel with a resolution of 1920 by 1080, with the former of the two devices protected by a "shatter proof sheet of scratch-resistant glass". Power comes from a 1.5GHz quad-core Qualcomm Snapdragon S4 processor paired with an Adreno 320 graphics card and 2GB of RAM.
The smartphones feature a 13MP camera on the back, with auto focus, burst mode and HDR mode, capable of 1080p video recording. On the front the handsets sport a 2.1MP camera that can shoot 1080p video.
The Xperia Z and Xperia ZL come with 16GB of internal storage as well as a microSD card slot which can expand the storage capacity by an extra 32GB. The former is also known to ship with a 2330mAh battery, while the battery on the latter is as yet undisclosed by Sony. The Xperia Z is also dust-proof and water-proof (IP55 and IP57, respectively, for ratings), two features that will undoubtedly appear to demanding and clumsy users alike.
In the connectivity department the Xperia Z features 4G LTE, while the Xperia ZL has to make do with just HSPA+. Shared specifications include Wi-Fi; USB2.0 support; NFC (Near Field Communication); GPS with Glonass support; HDMI via MHL and Bluetooth 4.0.
The Xperia Z handset comes in at 139 x 71 x 7.9mm and 146 grams of weight. Sony didn't provide physical measurements for the Xperia ZL but did say it has "a smaller form factor". Considering that the Xperia Z is itself quite small, taking the large display into account, it'll be interesting to see just how small the Xperia ZL actually is.
The Xperia Z and Xperia ZL will be released in the first quarter of 2013. The former will be available in black, purple and white, while the latter will ship in black, red and white.  Shortly after the announcement, UK retailer Clove added the Xperia Z to its pre-order list for £528 including VAT (Value Added Tax), with stock availability starting March 1.