Bing gets a sexy makeover for Windows Phone 8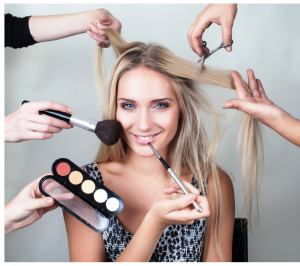 While Android users are tightly integrated with Google Search, Windows Phone 8 users are even more tightly integrated with Bing. Heck, there is even a button that is dedicated to launching Bing Search. Today, the Bing Team announces that the search engine-related functionality is getting a brand new makeover to improve the experience on Windows Phone 8.
According to the Bing Team, the company will "...roll out a set of global updates for Windows Phone 8 similar to recent upgrades we've made to Bing.com on Android and iOS. With this release, we're excited to provide people with more info they need on their mobile device, including additional instant answers and Snapshot entity information". While this update is appreciated, it is disappointing that Microsoft gave similar updates to Android and iOS first.
The Bing team explains that not all of the existing search views were being used. In fact, users likely didn't know the views were there. "Consolidating and streamlining the views should reduce confusion and help people find what they're looking for more easily" says Bing product manager Alisher Saydalikhodjayev.
As a Windows Phone 8 user myself, I can attest to this problem. Often, having to scroll through the views was overwhelming. Sure, the data is beneficial but the interface was not engaging or intuitive.
Bing will also improve the results for popular searches. According to the Bing Team, "...say you search for 'Delta Airlines'. Bing shows delta.com as the top result, but also provides links to Flight Status, SkyMiles, Track Flight, Flight Schedules, and other popular destinations within the site, saving some tap". This is a really cool feature that should improve the productivity of Windows Phone 8 users.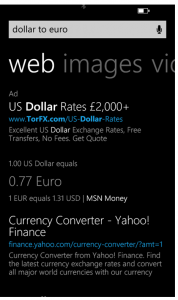 One of the best features of Bing on Windows Phone 8 is "Instant Answers". This allows you to ask real questions to your phone. The Bing Team says that this update "...brings 10 new Instant Answers available on the PC to the phone, including traffic, flight status, exchange rates, word definitions and translations, and more". As someone who travels with his Windows Phone 8 device, exchange rates in particular will come in very handy.
Bing will also bring its Snapshot feature from the web-version of Bing to Windows Phone 8. According to Bing, this feature "...provides information at-a-glance about people, places, or things, so you can quickly find what you're searching for".
The search engine further explains Snapshot with examples: "...type in the name of a coworker and you might see details like where they went to school, where they worked, and other people connected to searches for that person. For a place like Mt. Everest, you might see things like a short description, elevation, date of first ascent, and the names of some of the famous people who summited it".
While these new features are great, it is an the under-the-hood improvement that may be the most important. According to Alisher Saydalikhodjayev, "...post update, your phone downloads results only for the default Web view. Images and Videos are populated on demand if you swipe over to them. That's a big change from how things work on your phone today. Today Bing fills all four existing categories with results every time you search, whether you use them or not".
In other words, this update will stop Bing from downloading results that users are not even looking at. Instead, it will download the results for each category as the user swipes to it. This will not only make the search faster, but it will also conserve precious data -- increasingly important in the new tiered-data world in which we live.
Unfortunately, most Windows Phone 8 users do not yet have access to the new and improved Bing. According to the number-two search engine, the update "...will show up automatically on U.S. phones in the coming weeks, with additional markets coming thereafter".
I happily and eagerly await the update for my Nokia Lumia 928.
Image Credit: AlikeYou / Shutterstock