Got yourself a new Nexus 7? Now you can download factory images and binaries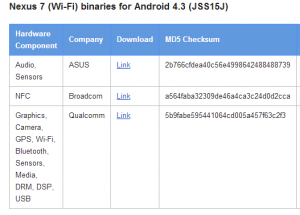 For anyone looking to tinker with their Android, access to factory images is essential. After something of a delay, Google is making available factory images and binaries for the recently released Nexus 7. Listed under the product name Razor, the images and binaries are freely available for all to download.
Anyone who is a fan of trying out custom ROMs needs access to an image so things can be restored to their factory fresh state should something go wrong. The image download is based on build JSS15J and weighs in at 360MB.
The availability of drivers may come as something of a surprise as it was thought that one driver developer was holding things up. As it turns out, there are now three driver downloads available. From ASUS itself there are audio and sensor drivers in a tiny 78KB download.
A Broadcom NFC driver is even smaller at just 16KB, while the biggest of the bunch comes from Qualcomm. The drivers for Bluetooth, graphics and more can be downloaded in a 17.6MB file.
The downloads come in plenty of time for anyone in the UK who is awaiting the release of the new Nexus 7 on August 28. You can expect to see a raft of custom ROM appearing in the very near future: exciting times indeed!