Tracking tablet advertising reveals some interesting insights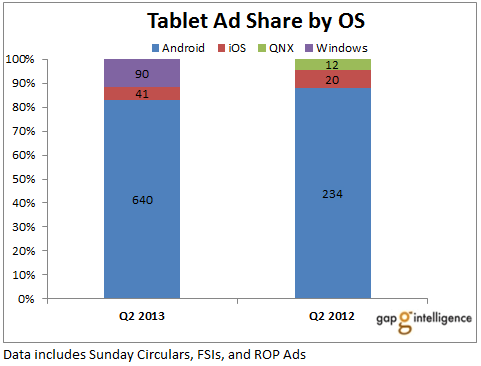 The PC as we know it is dying, and tablets are unquestionably where the sales are right now. As a result, vendors and retailers are clamoring to pull in the consumers by ramping up their advertising spend and exposure.
In Q2 2013, according to data gathered by analyst firm gap intelligence, vendors and retailers placed a total of 771 tablet ads in print media in the US, up 266 from the same quarter last year, and while 83 percent of the adverts were for Android tablets, Windows devices made a big splash, accounting for 12 percent of all ads. When new products launch, or sales aren't great -- both true in this case -- it's quite typical to see an increase in ad spending in order to reach as many consumers as possible.
Gap intelligence tracks and captures Sunday retail ads in newspapers, free standing inserts and ROP (right off press) for the major retail chains and its findings show that while Walmart took the decision to place less adverts in the quarter -- just 12, down from 16 in Q2 2012 -- most retailers significantly increased their exposure.
Big-box store hhgregg topped the list of tablet ads by retailer with a whopping 162 adverts in Q2 2013, up from just 12 ads in Q2 2012. Staples placed 140 ads, 89 more than this time last year, and Fry's Electronics placed 136 ads, up from 61.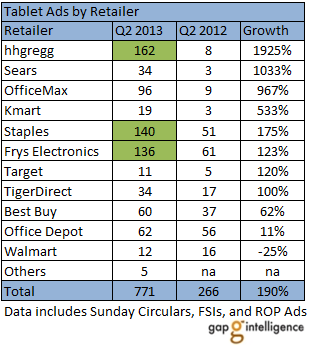 While retailers place the advertisements, vendors such as Apple and Samsung pay them to include their brands in the ads each month.
In Q2 Samsung took the lead with a total of 228 ads, up 516 percent compared to last year. Amazon followed with 134 ads. Google, Microsoft and HP combined contributed 110 ads.
Apple, which usually avoids print media, placed 41 ads during the quarter, up from 13 in Q1 -- likely in an effort to balance the inevitable sales drop off caused by not introducing any new iPads this spring/summer.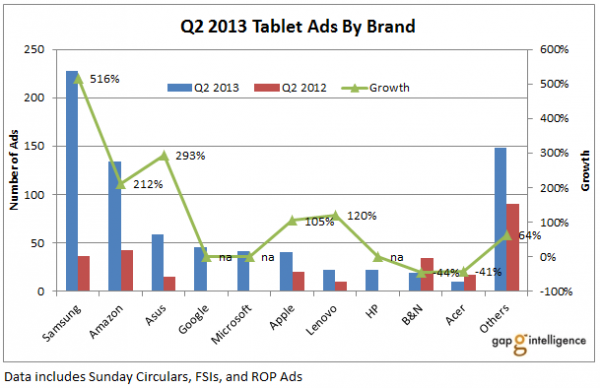 Gap intelligence also recorded tablet print ads by size. 7 inch and smaller tablets accounted for 362 ads, while 10 inch and above featured in 294 ads. There were 115 ads for 8 and 9 inch tablets, the class which saw the largest growth (a 539 percent increase). This is consistent with Samsung and Amazon being the ad-spending leaders, as both firms make models in these sizes -- Note 8 and Fire HD 8.9.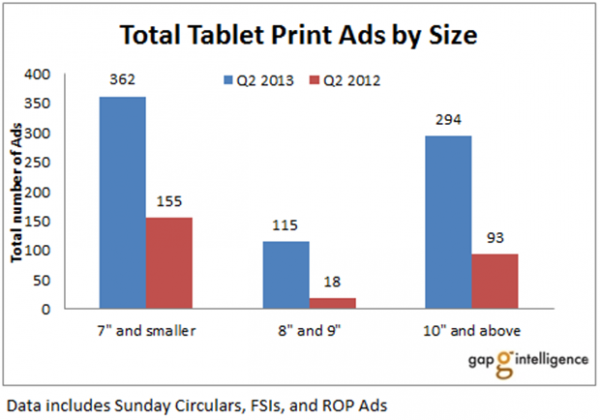 Graphics credit: Gurpreet Kaur, industry analyst for gap intelligence