Logitech Wireless All-in-One TK820 [Review]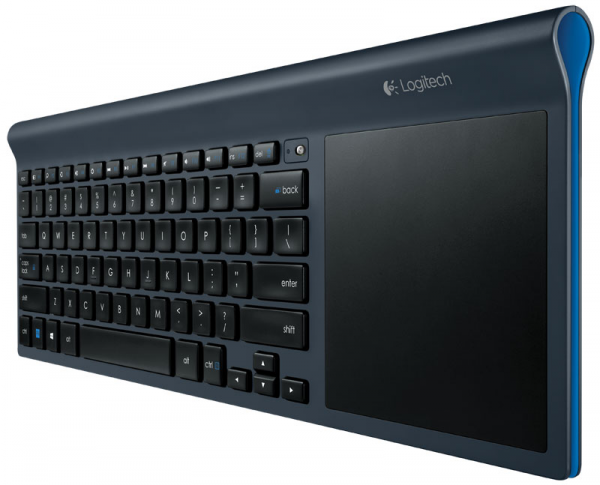 I am typically not a fan of hardware convergence. My first computer, a Packard Bell, had a combination sound card and modem -- I kid you not. When I decided to upgrade the modem, I lost sound. What I learned that day so many years ago, is that it is better to have individual components.
When the opportunity to test the new Logitech All-In-One TK820 arose, I was excited. Logitech is known for quality hardware; but a combination keyboard and trackpad? I was dubious to say the least.
My first criticism of the device is the packaging. It was inside a plastic box that was difficult to open. I managed to pry the device out with scissors, but I was fearful that the ragged plastic could potentially cut my hand. I very carefully and safely removed the item and was immediately impressed with the build quality.
My favorite keyboard, the Apple Wired Keyboard, is made of aluminum and plastic. While the Logitech device is comprised only of plastic, it is still very solid and certainly not cheap-feeling. It is mostly black and dark navy blue in color, but its edge is highlighted with a beautiful shade of Twitter blue.
For connectivity, the device uses Logitech's proprietary unified receiver technology. This allows you to connect multiple Logitech devices while only occupying one USB port. Though some may complain that it does not use Bluetooth, I applaud the decision -- the platform will not work in a computer's BIOS while this will.
I plugged the receiver into my Windows 8 computer, and the TK820 worked instantly -- no software to install or configure. Out of the box, multitouch gestures worked wonderfully with the trackpad, which was very impressive.
Speaking of the trackpad, the TK820 is the best I have ever used under Windows. I currently own two other trackpads -- Apple Magic Trackpad and the Logitech T650. Obviously, the Apple trackpad is better suited for OS X but the T650 works pretty well under Windows.
Sadly, gestures on the T650 can be problematic -- specifically swiping from the edges. Since the T650 is a free-standing trackpad, swiping from the side can hurt your fingers. Conversely, the trackpad on the TK820 is much better in this regard as it is enclosed with the keyboard. This makes edge swiping much more comfortable and pleasing.
I am happy to say that the party does not stop with the trackpad -- the keyboard is equally wonderful. The chiclet-keys have just the right amount of texture. In comparison, the Apple Wired Keyboard, while amazing, has very flat keys with a rather hard depression. The TK820 has a much softer depression which makes typing more comfortable and rewarding.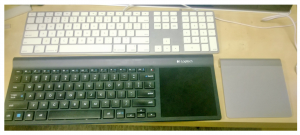 In addition to Windows 8, I successfully tested this device with OS X, Linux Mint, a Chromebook and a Raspberry Pi. However, I could not get it to work with Android when using an OTG cable on the new Nexus 7.
While the device worked under Mac OSX, Apple gestures did not -- only two-finger scrolling and two-finger right-click. On the Chromebook, I was very impressed that the three-finger swipe-up gesture launched the app drawer. This device is a perfect compliment to a Chromebook user who is also connecting to a monitor. Raspberry Pi users should take notice, as this is a keyboard and pointing device that will only take up one USB port.
Sadly, the keys are not backlit -- a huge bummer for HTPC users. It would work great for that purpose with a light on but this is not ideal for a late-night movie marathon.
Overall, I am extremely impressed and satisfied with the Logitech TK 820. If you are a Windows 8 user, then this should certainly be considered. I can't recommend this enough as it greatly improves and enhances the Windows 8 experience with great style and quality. While the $99 price-tag may seem high, please remember that you are buying a keyboard and a pointing device -- in my opinion, it is totally worth it. Heck, the 4 AA batteries that it requires even come included!