Outlook.com gets improved alias management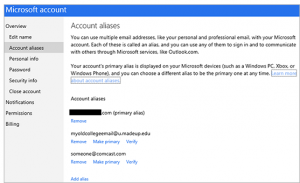 Now that Outlook.com is actually working, Microsoft can redirect its focus on improving the service rather than fixing it. Today, the tech-giant announces that they have improved the management of aliases on the web-based email service.
"Several years ago we launched the ability to rename or to add aliases to your account, which gave important flexibility to manage these changes. But we found that these tasks were a little too monolithic. For example, sometimes you wanted to sign in with one alias but use another to send mail or display on your Xbox. So we started working to break these tasks down to give you more flexibility", says Eric Doerr, Group Program Manager for Microsoft account.
The company further explains that "we're replacing rename with a simpler and clearer choice to make any of your aliases a primary alias. We've also made it clearer why you might want to do this (and why you might not). Now that you can sign in with any alias, really the only reason to make a different alias your primary one is if you want a different email name to show on your Microsoft devices, like the background of your Xbox or your Windows 8 PC".
I am actually a big fan of the Outlook.com service, so I eagerly went to the settings page to try it out. I was very impressed with how easy it was; not only to add an alias, but to change which email address was primary as well. I can choose on the fly as to which email address to display on my Microsoft devices -- very helpful!
Other than the short-lived outage that Outlook.com recently experienced, I think the service should be applauded for continuing to offer a well-designed ever-improving web-based email experience. I wish the same could be said about Gmail; between the ever-increasing advertisements and clunky tabs, Google's service is sinking fast.