First Look: Qihu 360 Internet Security 2013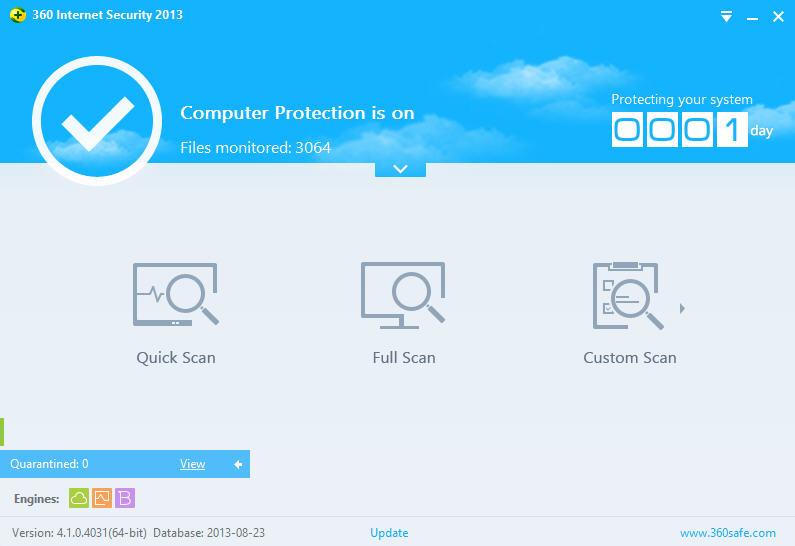 Qihu 360 Software may not make too many headlines in the security world, but the company is huge in its native China, claiming an impressive 450,000,000 users in total. (To put that in perspective, even a big name like AVG only claims around a third of that number.)
It seems that Qihu has ambitions to expand further, though, this year finally releasing its free 360 Internet Security 2013 -- an antivirus product, despite the suite-type name -- in an English language version. Is it worth your time? We took a quick look.
Installation saw the program get off to a bad start, claiming that we didn't have enough free hard drive space to proceed. As there was more than 2.5 TB available, we weren't too impressed, but switching to another drive with 1.6TB free appeared to solve the problem.
Once it was up and running, installation proved simple enough. You're alerted about "incompatible" products but not forced to remove them, and there's no need to reboot once the process is complete: just wait a minute or two, until the program appears.
The core 360 Internet Security 2013 interface is straightforward and attractive. By default it presents only three key options: Quick Scan, Full Scan and Custom Scan. And a drop-down panel allows you to enable or disable the program's various protection modules: real-time, USB, proactive, URL filtering, download monitoring and webcam protection. There are plenty of more low-level settings elsewhere, but you'll only see them if you go looking.
We tried a few scans, and found they were a little slower than average. This may be in part due to the program's use of three antivirus engines, including two from Qihu ("360 checksum based cloud" and "machine learning QVM"), with the BitDefender engine thrown in for good measure.
Whatever the reason, 360 Internet Security 2013 detected all our malware samples without difficulty. And independent labs have also reported generally positive results, with AV-Test finding the program offers broadly comparable protection to Avast, Avira and AVG's free products.
If there is an issue, it seems to be that the program is a little prone to generating false alarms. This is less of a problem as it might be, because detected threats aren't automatically removed, and you can click a Later button to postpone any action. Although of course that approach may create problems in itself, if inexperienced users get used to clicking Later should alerts pop up when they're busy.
Still, if you can live with that, 360 Internet Security 2013 seems a likeable tool. It looks good, is easy to use, has reasonable detection rates, and doesn't weigh your system down with adware, browser extensions or anything else. If you're in the market for a free antivirus tool and the regular products haven't impressed, then give it a try, see how the program works for you.