Logitech G602 mouse -- a lot of buttons and battery life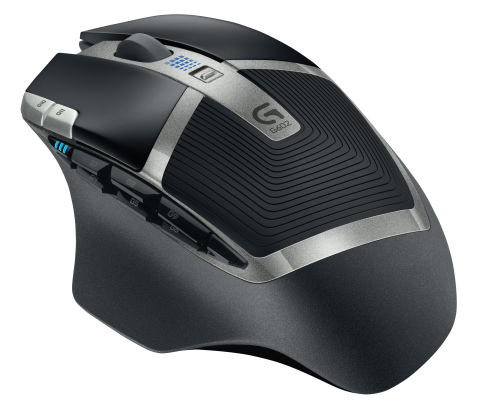 When it comes to modern PC gaming, you can never have too many buttons. Sure, there is an argument to be made that less is more on game controllers. However, hardcore-PC-gamers need any advantage they can get in today's fast-paced first-person-shooter world. Logitech is aiming to help these gamers to, well, aim, with the new Logitech G602 wireless gaming mouse ($79.99).
Logitech says, "the newest mouse in the Logitech G lineup, the Logitech G602 Wireless Gaming Mouse sets a new standard in wireless gaming. Without cords, clutter, or interference, the mouse's lag-free wireless connection and unprecedented battery life allow better, uninterrupted game play. Featuring two modes, Performance and Endurance, the G602 Wireless Gaming mouse delivers 250 hours of non-stop battery life when in full gaming mode -- Performance mode -- and more than 1400 hours of use in non-gaming mode -- or Endurance mode".
The company further says the pointing device, "features Logitech G exclusive Delta Zero sensor technology that offers high-accuracy cursor control. Plus, it has an ultra durable build with primary mechanical switches rated to a 20 million-click lifespan. And, because it features eleven programmable controls, you can easily master your favorite games by assigning the actions you use most to the buttons you want, using the Logitech Gaming Software".
To complement this new mouse, Logitech is also releasing two new mouse pads -- the G240 ($19.99) and G440 ($29.99).
The company states that "the Logitech G240 Cloth Gaming Mouse Pad is made for low-DPI gaming. Perfect for gamers who play first-person shooters, its heat-treated textile surface improves gliding consistency by providing just the right amount of friction to make the precise movement and control to elevate your game. The 1 mm rubber base gives the pad rock-solid stability".
It further says that "the Logitech G440 Hard Gaming Mouse Pad is ideal for high-DPI gaming, letting you feel the adrenaline of hitting high speeds without spinning out of control. It features a low-friction, fine-textured polypropylene surface that's kept rigid by a high-impact polymer core, giving you consistent tracking performance across the entire pad. This mouse pad was specially crafted to complement Logitech G mouse sensors to further improve their already pinpoint accuracy, enhancing your aim. And a 3 mm, 3-layer construction keeps it in place during high-intensity gaming".
Typically, hard-core gamers will dismiss a wireless mouse due to lag, but it seems that Logitech engineers have put much thought and effort into the design to make it optimal. Personally, 11 buttons would have my head spinning -- I've barely evolved beyond the 2-button NES controller. However, with 250 hours of battery life, I am certainly willing to try it.