Grungetastic transforms ordinary photos into grimy works of art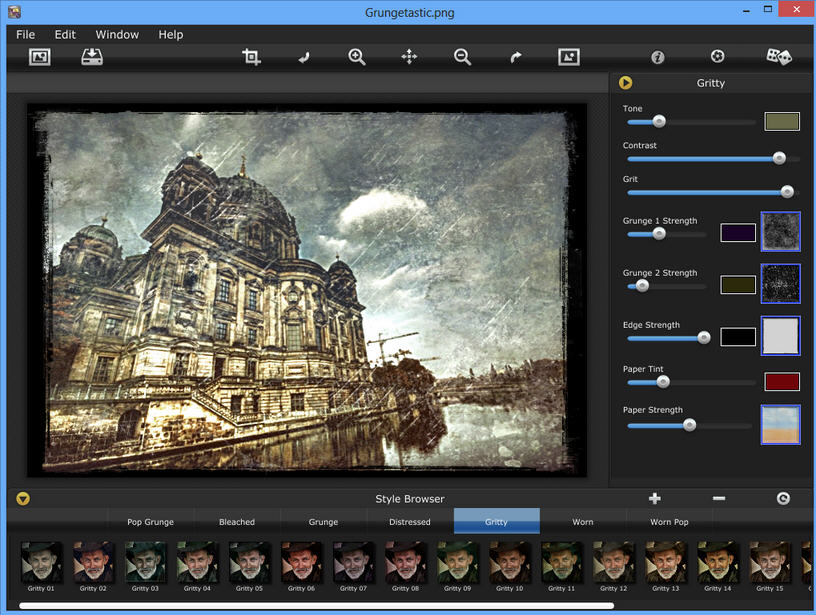 Most graphics software will do its best to clean up your photos, removing noise, optimizing brightness and contrast, and generally leaving them bright and polished.
If you're bored with this approach, though, you could always try Grungetastic ($0.99 iPhone -- $7.99 Windows, Mac), which prefers to reduce colors, add layers of scratches, dirt and grime, tear image borders, and generally leave your pictures looking as though they've been left in a box in your garden for a very long time.
Why? Strange as it might seem, trashing your pictures in this way often produces amazing results. Ordinary portrait shots, or dull photos of places or objects, can be transformed into cool images which look like stylish album covers. Don't take our word for it: check the gallery at the bottom of the official "Grungetastic Story" page to see for yourself.
We're not just talking about the feeble "oil painting" or "old photo" effects you'll get with some photo editors, either. Grungetastic is much more powerful, combining so many filters, textures, color tweaks and distortions that the results can be very impressive indeed. Whether you're looking for some heavily processed, posterized effect, or just a great way to make a new image look like a scratched and damaged old photo, there's something for you here.
All this power doesn't make the program difficult to use, though. At a minimum, all you have to do is open an image, and click the "Randomize" button. Grungetastic will randomly combine a range of styles, and you can either save the result (in the full version, anyway -- "Save" is disabled in the trial) or click "Randomize" and try again.
And if you need more control, there are separate options for "Tone", "Contrast", "Grit", "Paper Strength", and more. Helpful tooltips do a reasonable job of explaining what these do, but you don't have to understand the low-level details -- just drag each individual slider to fine-tune the image.
We did occasionally wish there were a few more settings. The images can often be a little on the dark side, and being able to tweak the brightness alone would have been useful.
Overall, though, Grungetastic is a great tool, which combines several powerful techniques to (often) spectacular effect. Give it a try.