Acer Aspire M5 brings Haswell to your home [Review]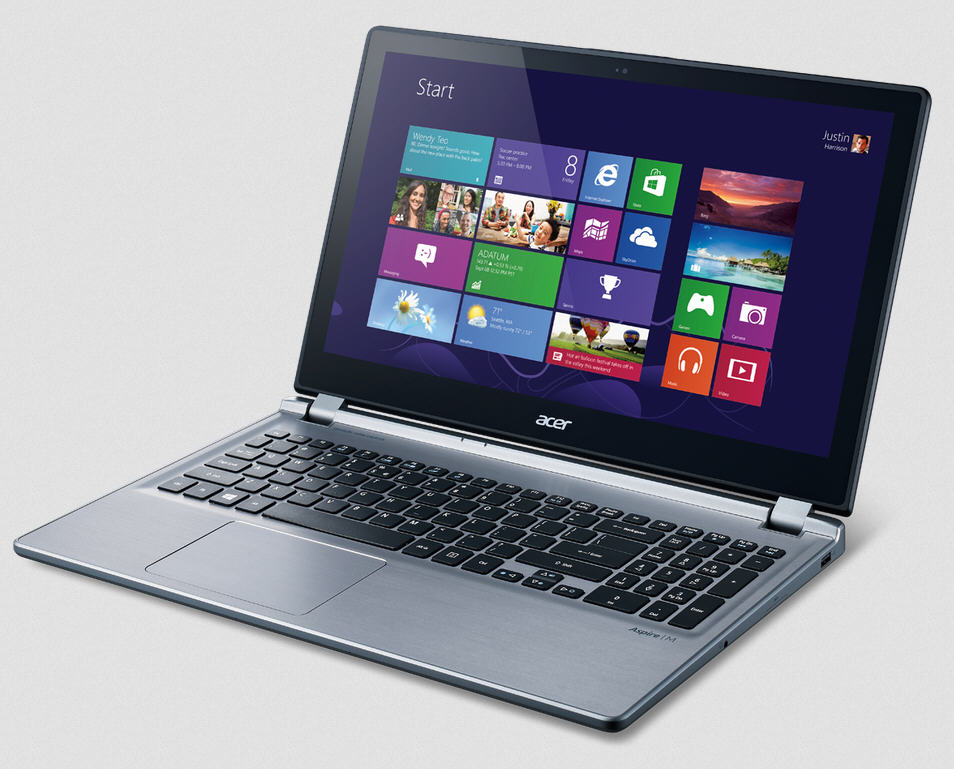 I continue to hear about the death of the PC, but trust me, I am not writing this story or anything else, on a tablet. I have three of them, and enjoy using them -- "Under the Dome" looks great on the Kindle Fire HD while I am "Under the Covers" at night -- but they are essentially useless for my job. In fact, I mostly work from a two-year old Gateway laptop -- the device is more than suitable for my needs and I rarely venture to my home office to touch the desktop.
Acer, however, has decided to try and tempt me away from what I had been considering more than adequate at this point. I write this latest missive from the brand new Aspire M5 that FedEx dropped off to me for review, courtesy of the hardware maker.
The packaging looked a bit worse for wear, but it is what's inside that matters, and that was the brand new laptop and, unlike the box, it was pristine.
The Basics
Hardware specs are perhaps the most basic starting point. The Acer Aspire M5 packs an Intel Core i5 Haswell processor, 8 GB of DDR 3 RAM, 15.6-inch HD CineCrystal screen, 500 GB drive, 10/100/1000 ethernet, media card reader, 802.11 A/B/G/N WiFi connectivity, Bluetooth 4.0, HD webcam (1280 x 720), Dolby audio, one USB 3.0 port and two USB 2.0 ports, HDMI port, combination microphone and headphone jack, backlit keyboard with media control keys and weighs in at 5.26 pounds.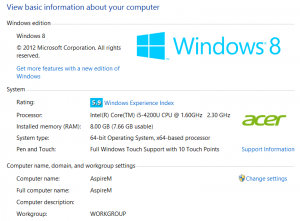 The HDMI, USB 3.0 and ethernet jacks are all located along the back -- only the two USB 2.0 ports (one along each side near the rear) and headphone jack are located on the sides. This lends to the M5's slim appearance.
Those are all impressive stats, but it really comes down to real-world performance and battery-life. How does it perform in everyday use? That's what I explored next.
Battery Life and Benchmarking
Acer sent me a benchmark test that shows a range of battery life between 9:32 and 9:56, though it was specified that this was obtained by disabling the backlit keyboard, unplugging external devices (like the WD My Passport I have plugged in) and setting the brightness to five of ten -- in other words, not real life.
With my trusty external drive plugged in and everything set for normal usage, I am obtaining around seven hours of battery life during normal daily usage -- which for me is mostly looking at news and writing, but my ADD does take me away for the occasional video.
This is still a solid and acceptable number for almost any user. It is rare you will be away from charging for much longer, save for an especially long flight, but that is when you switch to the tablet anyway.
As for real world benchmark scores, the M5 obtained a 1,217 from Passmark, compared to the just over 800 that my older AMD A6 Quad Core Gateway laptop scored. The CPU and 3D graphics scored exceedingly well and, despite not being an SSD, so did the drive.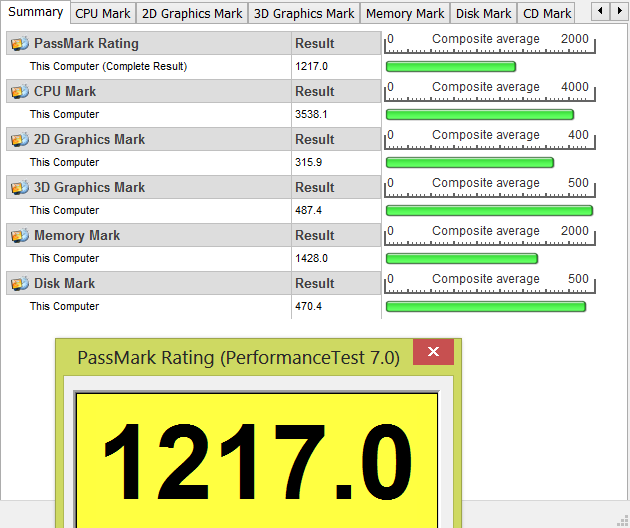 While these tests have a place, I avoid reading too much into them, as milliseconds have little to do with day-to-day use. Still, these tiny increments can add up over time and lead to noticeable differences in how everyday use really feels with a device.
For real-world usage, I did a minor, unscientific test on the USB ports. A 926 MB file took 45.5-seconds to transfer to my WD My Passport drive across USB 2.0, while only 12.5-seconds when hooked to the 3.0 port.
If Looks Could Kill
Let's face it -- this computer is gorgeous. At .9-inches in height, the M5 looks very slim, and the weight of 5.26-pounds, while almost twice that of a MacBook Air 13-inch, still feels entirely manageable, especially given that you are getting an extra 2.5-inches of screen real estate with the Acer.
The screen is crystal clear to the point that even sun glare on my porch did not prevent me from using it, though it certainly made it a bit harder, as to be expected. The size and shape, the design of the base, the mousepad -- it all feels just right. Acer certainly paid close attention to aesthetics with this one, and the results paid off. Even the body is fairly clean -- sporting a single sticker (Intel Inside Core i5).
Touchy-Feely
While I have no problem with my phones or tablets being touchscreen -- I expect it -- I cannot, for the life of me, get used to touching my laptop screen.
With that said, the touchscreen does work well, even in desktop mode. It shines on the Modern UI Start screen, which is what it was really made for. One light click, even on a red X at the top right of a window, does exactly what you wish for. By nature, I keep my taskbar hidden, but dragging a finger to the bottom edge of the screen makes it appear with no problem, and it stays long enough for me to click Chrome, or whatever app I need. I had much less luck making the Charms menu appear by touch.
The touchscreen gets high grades, aside from the seeming problem with accessing Charms. It will take getting used to, for me at least, but knowing I can do it makes the notebook just a bit more interesting.
The Key to the Whole Thing

The keyboard, of all things, may be the best part here -- and that is not a slight on the hardware or screen. Acer has provided a backlit surface that gives off a lovely blue glow in the dark.
The company also shoe-horned in a number of other features that work courtesy of the "Fn" button. This allows the top-right four buttons to be used as media control keys, enables the arrows to function as volume (up and down) and brightness (left and right) controls. It also places a number of functions at the customer's disposal via the "F" keys.
Hold down the "Fn" key and press the F3 to toggle WiFi on and off for instance. F7 turns off the mousepad -- handy if you use an external one as I do, F6 dims the screen, and so on.
Being a touchscreen device, there is also an onscreen keyboard which is accessed by tapping the keyboard icon on the task bar. The keys are large and easy to tap, but I would not recommend writing a long message in this manner. Given that is is not a convertible, the onscreen version will likely see little to no use.
Not Everything Is Right In Paradise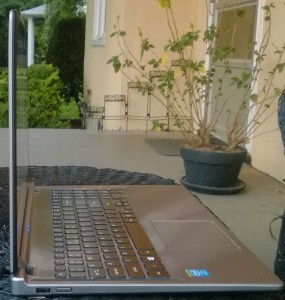 The most notable problem I have encountered during my week of solid use, has to do with Wi-Fi. While the adapter is running the most up-to-date driver, the connection still periodically drops out for no apparent reason -- all other devices around the home continue to be fine during these episodes. It does not happen often and usually switching my connection from the router to the extender or vice-versa will fix it. I have attempted only minor trouble shooting, as it simply doesn't bother me enough to warrant too much effort.
Now we come to the only other issue I had with this -- the infamous crapware that is present on so many systems these days. I tried my best to use the M5 stock, but it took only half a day for me to come to the point of uninstalling McAfee -- I now know why John was hiding in Belize. There is also Acer-branded software here, along with Norton, various games and a few other odds and ends. It can all be removed, but it's a hassle. A clean Windows 8 install would be the simplest plan.
To be fair, not all of the Acer-branded software is bad. The fact is, some is useful, but it adds to the other inclusions, making the operating system appear more cluttered than it should. In all honesty, apps like Acer Cloud could be useful, but this and the others are buried under the likes of Norton, McAfee, Shark Dash and more.
This is, of course, how today's OEM's make money -- margins on computers have become razor thin. Partnering with software makers has become a necessity of doing business.
Conclusion
In the end, the hardware is beautiful, sleek and fast. The minor WiFi issue is trivial -- it hasn't bit me at the least opportune time yet, however. The removal of bundled software is something I always expect, though I lived with all (but McAfee) in this case.
The system, on the whole, proves to be a winner. 500 GB of storage, a crystal clear screen and backlit keyboard do a nice job to round things out. The Acer Aspire M5 retails for $649.99 and is currently exclusive to Best Buy -- don't ask me why, but hopefully that will change.