Pressy -- an impressyve way to add a physical button to Android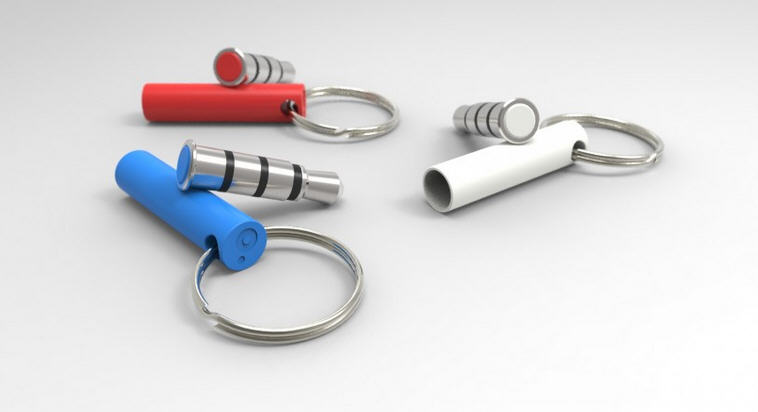 I just reviewed the Moto X and absolutely loved the hands-free voice activated experience. However, sometimes I still yearn for actual buttons to push. On-screen buttons are all the rage on Android, but a new Kickstarter campaign has launched with the aim of adding a physical one to Android devices via something called "Pressy".
According to the designers, the device is "a tiny physical button that connects to your phone through the headphone jack. Connecting the Pressy Button with the free Pressy app lets you easily customize and use your favorite, everyday actions. For example, if you use your flashlight on regular basis, set a Click-combination [in] the app for turning on your flashlight and start clicking the button".
While you can customize the device functions, the designers list the following default behaviors:
One short click to toggle your flashlight.
One long click to toggle your phone in and out of silent mode.
Double-click to snap a photo.
Unlike the disastrous and failed Ubuntu Edge campaign, Pressy has already met its funding goal. In other words, this will be produced. Where Canonical set an unachievable goal of $32-million, Pressy set its sights far lower with a meager $40,000 and has already raked in $230,523 with 45 days still to go.
The demonstrations of Pressy are very impressyve to say the least. However, there are some potential shortcomings with the device. The most glaring of course, is that the product takes up the headphone jack. If the user has Bluetooth headphones this shouldn't be a problem. However, users of wired headphones may grow tired of constantly removing  and connecting Pressy.
Also, the device will only support Android -- iPhone users get the shaft. The developers say "we are not releasing an iOS app for Pressy. There are too many restrictions on the API. We hope our developers community builds an app compatible with iOS". In other words, iOS support is possible but the developers are choosing not to put in the effort -- kind of lame.
At the time of this writing, a $17.00 pledge will earn the backer a device. However, to also get the key-chain sheath, a $20 pledge must be made. Since the device is so tiny, the extra $3 is probably worthwhile so you don't lose it.