Acer unveils R7 with 'Ezel hinge'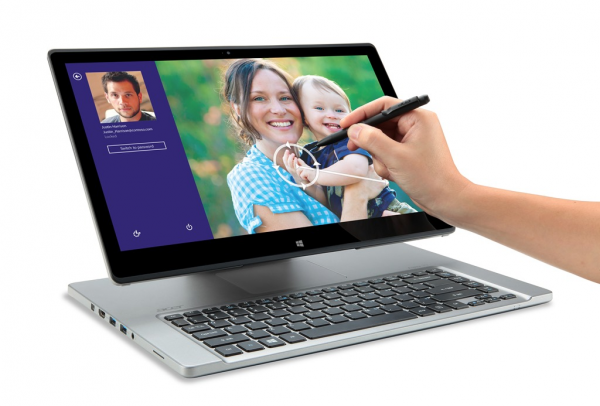 New design concepts are certainly not in short supply these days, with manufacturers throwing just about everything against the wall in hopes that a product sticks. This has resulted in some rather weird concepts seen at the annual Consumer Electronics Show in Las Vegas every January. A number of those products never see the light of market and, honestly some really shouldn't.
Now Acer unveils a new model of an idea that apparently worked -- the Aspire R7, shown off today at IFA, a trade show held in Germany -- is an update to a model already on the market. The notebook comes with a  rather unique hinge that allows for a range of different positions. The notebook is clearly intended for more of an art design crowd thanks to the screen movements and the included pen for the touchscreen.
The device can also function as a traditional laptop and has a 15.6-inch display. Sadly, no other specifications were announced, however the hardware maker did concede that R7-572 will come running Windows 8.1. I have reached out to Acer with an inquiry and will update specs depending on the response.
Equal to the specifications, price and availability were also absent from the announcement. With Microsoft's updated operating system set to debut on October 18, that narrows the timeframe down a bit, meaning R7 will be after that.
Update: Acer has released the specs for the updated version of the R7 and it includes an Intel Core i5 or i7, 500 GB or one TB drive, up to 16 GB RAM, two USB 3.0 ports, SD card reader and HDMI port.