Roku brings video streaming to Android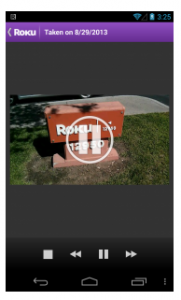 So, you got that new Android phone that's capable of taking HD video, but your friends and family really do not care to watch your cinematography skills on a five-inch screen. The good news is that you may just have a certain streaming set-top box sitting right in your living room that can solve your woes.
Today Roku announces the latest update to its Android app, bringing along a feature that the company had previously added to the iOS version of the service.
"We have just updated the latest version of our Android app which also adds this feature. Now you can stream the videos that you've taken with your Android device, to your Roku player with the Play On Roku feature", says Roku.
Not everything is roses quite yet for customers of the Google mobile platform. Currently, this is only supported on certain devices, including Samsung Galaxy SIII, Samsung Galaxy S4, HTC One, Nexus 4, and Nexus 7 (2012 edition), and requires Android 4.0 or later. Oddly, the newest Nexus 7 is missing from the list.
Customers will need to pair their device with the Roku box, which requires OS version 5.1 or newer, and the company recommends 802.11n for obvious reasons. If you meet these rather narrow restrictions, then you should be up and streaming in no time. Now nobody will be safe from your vacation videos.