Google Music offering more stations to suit your tastes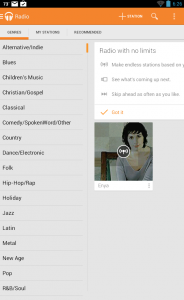 Because there's more to life than books, you know, Google unleashed Music All Access on us back in May of this year, going head-to-head with rivals such as Spotify, Rdio and Pandora, and combining this with all of your own music stored for free on the search giant's servers. My colleague Brian Fagioli called the new service a game-changer and today that contest alters a bit more.
Google is quietly rolling out an update to All Access that enhances the Pandora-like feature in the service. Personalized radio stations allow customers to enter an artist, or multiple ones, to create a station that plays music of the same type. However, for those who would like to simplify this process, Google Music now offers genre stations -- if you wish to listen to just Alternative, well, now you can.
On top of that, customers will now find a new download queue that allows for pausing, resuming and cancelling when needed. There is also the usual array of bug fixes behind the scenes and a promise of enhancements for the company's latest gadget, Chromecast.
Google Music All Access is priced at $9.99 per month, but customers who sign up early are grandfathered into a special $7.99 rate. A bit more pricey than some rivals, but the service also rolls in more features than others offer.