Meenova Mini MicroSD Card Reader [Review]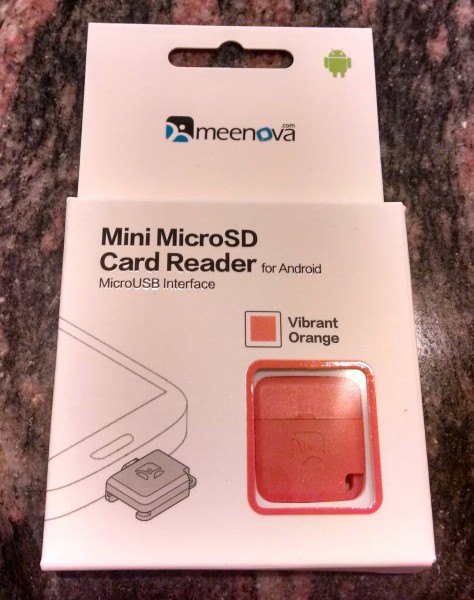 Crowdfunding is all the rage nowadays. It feels like not a day goes by without some new venture begging users for money. While many of the products are less than desirable, every once in a while, a gem shines through. Case in point, the Meenova Mini MicroSD Card Reader for Android.
According to the company, "it is just like a SD card reader that you use on your computer, except it is for Android tablets and smartphones that have MicroUSB port. You can use it to read/write MicroSD cards, copy files between your phone/tablet and a MicroSD card".
I funded this device in May and forgot about it. However, to my delight, I received shipping confirmation this week and today it finally arrives. You can witness the unboxing video posted below.
As you can see, it is very small and very orange. Technically, the company calls that color "Vibrant Orange" but it also comes in "Carbon Black", "Creamy White" and "Metallic Silver".
The company claims the following compatibility:
Samsung Galaxy S2, S3, S4, Note, Note 2, Mega, Galaxy Express, Galaxy Note 8.0 tablet.
HTC One, One Mini, HTC First, HTC One X+, Evo 4G LTE, DROID DNA.
Motorola Moto X, Droid Mini, Droid Ultra, Droid Maxx, RAZR M, RAZR HD, RAZR MAXX HD, Xyboard 8.2" Tablet.
Galaxy Nexus, Google Nexus 7 (2012 Original & 2013 New) & Nexus 10; requires third-party software or device being rooted.
Sony Xperia Z; LG Optimus G Pro; Asus MeMO ME171.
Xiaomi 1S, 2, 2S, 2A, Xiaomi Box; Meizu MX, MX2; Huawei Ascend D2, Mate.
I tested the card reader using two Android devices -- the Nexus 7 2013 and the Motorola Droid Maxx using a 64GB microSDXC card. However, results were surprisingly different.
With the Droid Maxx, it was plug and play. The device is not rooted and is running Android 4.2.2. factory. Once I plugged in the card reader, it showed up in settings as available. Using an app called Root Explorer (even though I don't have root), I was able to navigate to the 64GB card and access pictures and videos.
With the Nexus 7, I plugged in the device and got nothing; I was shocked. This was surprising to me as I expected a Nexus device to support it with the least amount of struggle. The tablet is on Android 4.3 factory but is rooted. And so, I went to the Play Store and downloaded an app called Stick Mount. Using this I was able to mount and use the card just as I did with the Droid Maxx.
While I am very pleased with the card reader for Android, the fun does not stop there. Also included in the box is a full-sized USB adapter that essentially turns the card reader into a flash drive. You can then plug the microSDXC card into any Windows, Mac, Linux or Chromebook and access the files. I successfully mounted it in Windows 8, Mountain Lion, Fedora 19 and my Samsung Chromebook.
Overall, this is the best $12.00 that an Android user can spend. The functionality is limitless. Using a microSD to SD adapter, you can take pictures on your point-and-shoot camera and upload them to your tablet or phone while on vacation. Or, you can take pictures with your Android smartphone and then transfer them to a PC with the USB adapter.
I may knock Android from time to time, but the fact that this is even possible is a testament to the operating system. While Apple offers a similar card reader for iOS, it is very limited without Jailbreak since the operating system blocks the file system from the user -- lame!