Microsoft Surface event liveblog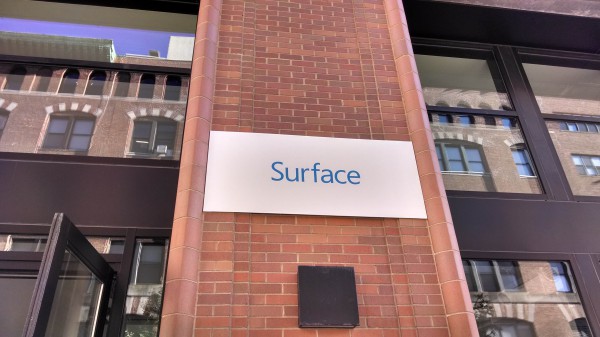 On an unassuming street, next to a strip-club, a small line forms in front of a building. It is comprised of tech-writers carrying backpacks. The smell of bleach is in the air as a maintenance worker frantically scrubs the sidewalk to clean what appears to be vomit. Yes, this is New York City and I am attending the Surface event.
Today, Microsoft is expected to announce updates to its Surface line of tablets (two models -- RT and Pro -- are likely to be unveiled). If Steve Ballmer is here, it may be his final product event before he heads off into the sunset (the man will retire within a year).
I will be taking pictures, videos and live-blogging from the event. What would you like to know? Tell me in the comments.
All updates will be in reverse chronological order. The latest ones are first and first ones are last. You will need to hit the refresh button in order to see the newest updates.
11:34am. Both tablets available in 21 markets on 10/22. Pre-order begins 9/24 at 8am EST. Surface 2 starts at $449 and Surface Pro 2 starts at $899.
11:31am. The Surface Remix Project Blade is the show-stealer. A potential game-changer.
11:27am. "Blades" is a new type of touch cover which can be customized for different usages. Surface Remix Project is a music-producing pressure-sensitive touch cover. Very innovative!
11:24am. Touch Cover 2 supports gestures!
11:22am. Surface 2 will be $449. Touch Cover 2 is backlit and has 1092 sensors. By comparison, Touch Cover 1 only had 80 sensors.
11:20am. Surface 2 comes with 200GB free SkyDrive for two years.
11:13am. Surface 2 front camera has improved light-handling so Skype always has bright video. Surface 2 and Pro 2 comes with free international Skype calling.
11:09am. Surface 2 has a 72-core GPU for gaming.
11:05am. There are now 100,000 apps in Microsoft app store.
11:03am. Microsoft says Surface 2 is sexier.
11:02am. Surface 2 (RT) has 1080p display, adds USB 3.0 -- includes the new lap-mode kickstand. It is faster, thinner and adds 25-percent better battery than Surface RT.
11:00am. Surface 2 is white!
10:59am. Now onto Surface 2; it is a revamp of Surface RT. They are playing a artsy movie about the design.
10:54am. Type Cover 2 is 1-mm thinner than Type Cover with improved key-switches -- almost as thin as the original Touch Cover. It is silent which makes it ideal for a classroom. And it is backlit!
10:46am. Surface Docking station revealed. It turns the Surface Pro 2 into a desktop workstation. Ethernet, 3x USB 2.0, 1 x USB 3.0, Mini Display Port, Audio In, Audio Out.
10:44am. New power cover, Type Cover 2. A keyboard cover with an embedded extended battery. It increases battery live 2.5 times.
10:42am. Haswell has been added, with cooler, quieter performance with 75-percent improved battery life. 75-percent!
10:40am. The new kickstand has two modes -- Lap mode and desk mode. The kickstand now extends further for use in the lap.
10:38am. Microsoft says Surface Pro 2 will have 50-percent faster graphics, 20-percent overall improved performance over Surface Pro.
10:35. The event has started. Two tablets are confirmed as Surface 2 and Surface Pro.
10:14am. Still waiting for something to happen. This dance music is giving me a headache. It is amazing how many journalists are using MacBooks here. I havent seen one Windows machine yet.
10:02am. There is dance music playing and purple light illuminating the room. I may start dancing.
09:42 am. The line of journalists is beginning to stretch far down the street. Electricity is the air.
09:05 am. The new Surface tablets appear to be inside.