Moto X bests iPhone 5s, 5c and Galaxy S4 in breakability test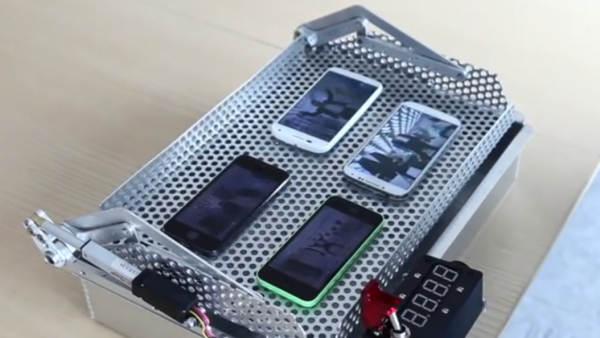 Smartphone reviews today usually revolve around specs, benchmarks and feature comparisons, with little emphasis being placed on long-term usage scenarios. As a result, it is difficult for consumers to figure out which handsets they should buy knowing that their new purchase is likely to get into a couple (or more) accidents down the road.
According to a new breakability test, conducted by insurance company SquareTrade, if you are looking for the most durable new smartphone available on the market then you should get the Motorola Moto X. The handset surpassed the Apple iPhone 5s, iPhone 5c and Samsung Galaxy S4 in a series of tests which involved a five-foot drop, sliding the devices on a slippery table and submerging them in shallow water.
Alongside the iPhone 5c, the Galaxy S4 was one of the most affected smartphones in the five-foot drop. The screen almost detached itself from the body and was found to be nonoperational after the big fall. The iPhone 5c also sustained heavy damage, as its display cracked in multiple places. It, however still worked afterwards. The iPhone 5s and Moto X sustained the least amount of damage, with only nicks showing up. The explanation for the results is likely that the last two devices may feature a stiffer chassis, which doesn't allow the body to shear like with the iPhone 5c and Galaxy S4.
In the slide test, the Moto X came out on top (it travelled the least on the slippery table, after being pushed). It was followed by the iPhone 5c and Galaxy S4. As you can tell, all three devices feature a plastic case, which seems to be a better choice compared to the metal on the iPhone 5s. Apple's latest flagship slid off the table, taking the last place.
In the submerging test, all smartphones passed with flying colors, except the Galaxy S4 -- its display stopped working after being pulled out of the water. Considering that no device in the test touts waterproof credentials, it's likely that Samsung's handset features internals which are poorly isolated from the outside.
SquareTrade crowned the Moto X as the winner of the test, followed by the iPhone 5s, iPhone 5c and Galaxy S4. The insurancy company also conducted a similar test, in late-May, and the hierarchy was the same for Apple's and Samsung's flagships (the iPhone 5 and Galaxy S4, at the time).