Amtrak offers train-tracking with Google Maps -- a potential terrorism security risk?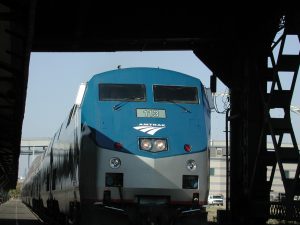 While long-distance travel has evolved to the airplane, many people still "ride the rails" and use trains. People choose the old-fashioned train option for multiple reasons. Passengers may prefer it because it is less expensive, they have a fear of flying, or they simply do not like the TSA pat-downs (which some people say border on molestation). However, even though a train may be viewed as antiquated, Amtrak is aiming to bring modern technology to the classic mode of transportation.
Today, Steve Alexander, Creative Director of E-commerce at Amtrak announces that the company has partnered with Google Maps to bring tracking to its passenger trains.
"Our new train locator map lets people look at all the active trains across the country, or zoom in on a given region or station. People can search for one of our 300 daily trains by name or train number. By mousing over a train on the map, they can see a pop-up window showing whether the train is on time or late, and when it's going to arrive at the next station. We get the near real-time data from GPS devices on each of our trains; as a train passes by sensors near the tracks, the location information is pushed into Google Maps Engine, along with station data from our content management system", says Alexander.
He further says, "with Google Maps Engine, the map data is in the cloud, so we don't have to host and maintain the infrastructure...Amtrak can continue to think up more ways to make our map traveler-friendly, like adding information about local transit, restaurants and nearby tourist attractions. As we build more layers on top of the map, we hope it improves the customer experience even further and changes the way our customers think about their upcoming travel with us".
While this sounds like fun for train enthusiasts, I would caution that it could potentially enable terrorists to better plan attacks. You see, these evil-doers can now pin-point the exact location of an Amtrak passenger train. Using that knowledge, they could set up explosives or tamper with tracks. Quite frankly, for me, the risk of enabling terrorists far outweighs the fun-factor of watching a train in real-time on the Amtrak website, but maybe I'm just worrying unnecessarily.
What do you think? Is this a good idea? Tell me in the comments.
Image credit: David Gaylor /Shutterstock