Earbits brings its music to iOS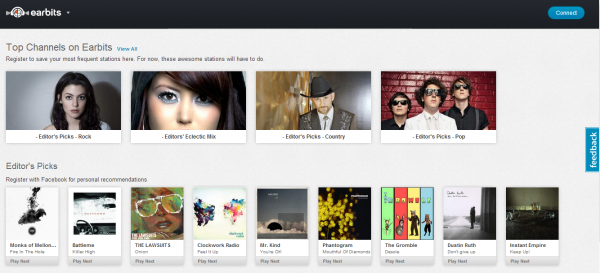 iOS comes with its own built-in music solution in the form of iTunes, but sadly for Apple, not every customer wishes to use it, or at least not full-time. But the mobile platform allows other services to compete for your ear and now one which has already established a presence on both the web and Android is making its case to iOS users.
Earbits, an online radio and music marketing platform, is available worldwide, aiming to showcase independent artists, and promising music from more than 12,000 musicians. Much like other similar services, Earbits works on recommendations, with a premise of allowing the customer to discover new music based on current tastes. It does so not only by using what you listen to via the service, but also by examining songs stored on your device.
"Consumers can play Earbits curated channels or songs on their mobile devices, switching seamlessly between their music and Earbits' catalog. Unlike other streaming music apps, the Earbits iPhone and iPad app is available worldwide and without commercial interruptions", the music service explains.
"The Earbits Radio iOS app puts artists in the center of the experience, providing simple ways for listeners to engage with them", claims CEO Joe Flores.
The service, which was started back in 2010, is making its first foray into the iOS world, but has become established on other platforms already. Customers can grab the app now from iTunes.