HP Chromebook 11 is pretty on the outside but last year's model within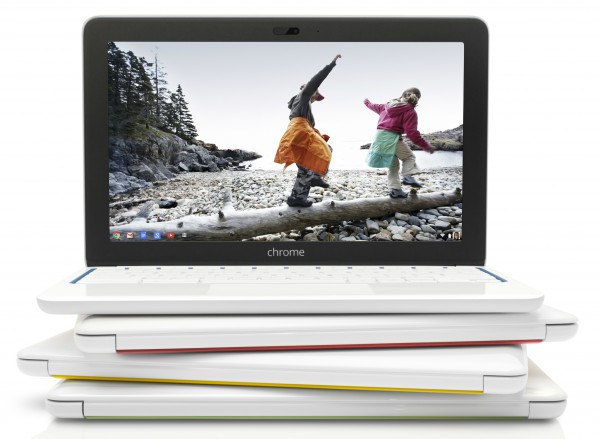 Nearly a year after unveiling an ARM-based Chromebook with Samsung, Google has a newer, costlier and not-so-updated model from HP. Like the older computer, screen dimensions, physical size and weight are comparable -- as is the stingy RAM, which as a long-time Chromebook user I must fault. But there's a sexy, new enclosure and four bright color accents that could make this tiny beauty the PC stocking stuffer of Holiday 2013.
HP's push into Chromebooks should disturb Microsoft. The manufacturer is the software giant's most-loyal OEM partner. If "traitor" isn't a word uttered in response throughout the hallowed halls of the Redmond, Wash. campus, it should be. Just as Microsoft moves Windows 8.1 to market, HP primes not one, but two, new Chromebooks -- the other with 14-inch display -- in the only segment of the PC market that is growing.
During calendar Q2, Chromebooks made up about one-quarter of U.S. retail sales in the sub-$300 category, which gained share, according to NPD. Every other price segment declined. HP Chromebook 11 hits the sweet spot. "We believe under $300-notebook clamshells provide a very competitive alternative to larger tablets" Stephen Baker, NPD's vice president of industry analysis, tells me today. "The sales results in that segment for notebooks have been strong all year".
This Christmas, you could buy that toddler or middle-schooler an ARM-based tablet -- with no keyboard and questionable longevity from rough child's play -- or a sturdy ARM laptop that's easier to manage, sturdier and packs a real, usable keyboard. Then there are the color accents.
HP Chromebook 11 will be available from major retailers, including Amazon and Best Buy in the United States. Amazon lists the laptop for preorder with October 20 availability. Google Play ships one of five models -- four in white with color accents (blue, green, red or yellow) and one black -- by October 11.
ARM vs. ARM
Let's compare this year's model with 2012's:
HP ARM Chromebook: 1.7GHz 5250 dual-core processor (ARM); 11.6-inch display, 1366 x 768 resolution, 300-nit brightness; 2GB RAM; 16GB SSD; Webcam; two USB 2.0 ports; WiFi A/N; Bluetooth 4.0; Chrome OS. Weighs 2.3 pounds (1.04 kg) and is 0.7 inches thick. Price: $279.
Samsung ARM Chromebook: 1.7GHz 5250 dual-core processor (ARM); 11.6-inch display, 1366 x 768 resolution, 200-nit brightness; 2GB RAM; 16GB SSD; SD-card slot; Webcam; two USB 2.0 and 3.0 ports (one each); WiFi A/N; Bluetooth 3.0 compatible; HDMI port; Chrome OS. Weighs 2.4 pounds (1.1 kg) and is 0.8 inches thick. Price: $249.
Performance-wise, the two ARM Chromebooks should be similar, given processors and RAM. My colleague Brian Fagioli and I chatted about HP's new entrant this morning. "I want to smash my Samsung ARM Chromebook", he says. "I can't imagine the HP will be any better". I share similar concerns about performance, which 2GB of RAM hampers on the Samsung. Google and HP co-designed the newer 11.6-incher, and I have to wonder why they chose to again cheat users on memory, when the ARM processor clearly needs the extra boost.
I find the Samsung's 200-nit display to be too dark; 300-nit is welcome change. Screen viewing angles promise to be better on the HP, too. Then there is micro-USB charging, as another benefit.
Haswell Calling
A year ago, ARM made more sense. Samsung's smaller Chromebook stood out for the chip architecture, which makes for a fanless design. A year later, the first Intel Haswell-based Chromebooks arrive for Holiday sales, offering as good or better battery life.
Something else: There's a psychology to buying. While $30 higher price might not look like much more to bean counters, it feels much higher to consumers like me. Samsung's ARM, at $249, has higher emotional appeal than HP's for $279. Under $250 matters. Besides, in a competitive, low-cost category less really is more appealing.
During back-to-school season, Samsung's ARM Chromebook was top-seller in the category, according to NPD.
All that said, other benefits matter. Appearance is one of them. Based on the photos, HP Chromebook 11 is a handsome computer that borrows design elements from the priciest model. "This Chromebook is crafted with the same obsessive attention to detail as the Chromebook Pixel", Caesar Sengupta, a Google vice president, says. "But we worked hard with HP to keep the price low".
As I explain in my book, The Principles of Disruptive Design, "color also is a benefit, because fashion is so important to so many people...how the devices are dressed says much about the owner". As I look at the largely white (or black) computer with one of four Google-color accents, I immediately think kids.
Senguopta describes the design as "distinctive and super simple", and I agree. "We wanted the Chromebook to hold up well against everyday bumps and bruises", he adds. "So it has a magnesium frame that makes it incredibly sturdy. You can hold it from a single corner without it bending or flexing". That's another benefit for the youngsters.
Will HP Chromebook 11 be a Holiday hit with parents buying for the kiddies? We'll know in January.