Chromebook goes Haswell


Today, at the Intel Developer Forum, Google and OEM partners unveiled plans to release new Chromebooks using Haswell chips. That means long battery life, on the order of MacBook Air, for a fraction of the price. Six top OEMs will produce Chromebooks, which isn't the best news for Microsoft and Windows 8.1. ASUS and Toshiba join Acer, HP, Lenovo and Samsung.
"Intel's latest processors consume less power to improve battery life by more than 2X over previous generations, while offering increased performance", Caesar Sengupta, Google's Chromebook product manager, claims. "This means these new Chromebooks can last all day so you can focus on getting things done".
According to product info pages, the Acer model gets 8.5 hours battery life and the HP Chromebook 9.5 hours.
Neither Google nor its partners announced specific details on pricing or ship dates, although the stock image shows what looks like a Chromebox with ASUS logo, and Sengupta says the 14-inch HP model will be "available in various colors with optional 4G". Both manufacturers, as well as Acer and Toshiba, are committed to producing Haswell models.
Who Could Guess?
Chromebook is a strange and amazing success story. Who would have guessed that a computer with browser as the primary user interface, largely required Internet connection and limited local apps do so well? By second quarter, according to NPD, Chromebook made up about one-quarter of the U.S. sub-$300 notebook segment -- the only one growing in the otherwise sales-tepid PC market. Price is most-often cited as reason for Chromebook's success. But others matter as much, if not more.
Familiarity is one. Most computer users spend most of their time on PCs in web browsers. What user interface is more familiar? Seamless sync is another, and it makes setting up and managing a Chromebook as easy as logging in with email address and password.
During 2013, Packaged apps bring the more traditional desktop offline experience to Chromebook.
Google Got Me
I'm an unabashed Chromebook fan, and I write this post on the Google Pixel. I first used Chromebook in December 2010, when the Cr-48 shipped to 60,000 testers. I wrote about the experience over 7 days. My next experience came with one of the first two commercial Chromebooks, the Samsung Series 5, in June 2011.
For two months that summer, I used the Chromebook as my only computer. But the Samsung was just too slow long-term, and I switched back to OS X and Windows.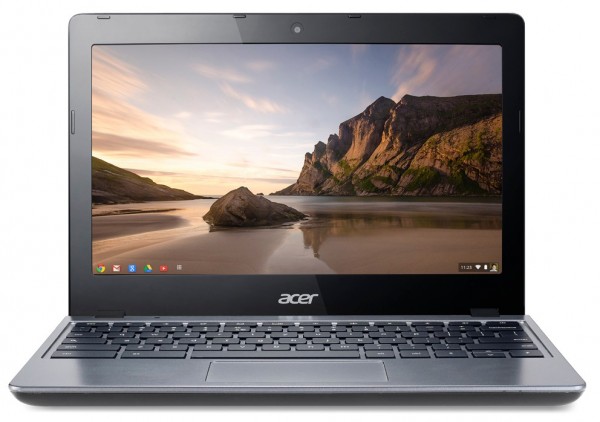 Acer Haswell Chromebook
Then Samsung released the Series 5 550 Chromebook in May 2012, delivering damn good performance and overall user experience. I switched and hardly looked back.
MacBook Pro Misses
But Summer 2013 brought bit of a crisis. I plan to do more ebook writing (Comic-Con Heroes: The Fans Who Make the Greatest Show on Earth published this week); all the experts recommend using Microsoft Word, and Macs are widely adopted in publishing. I had been using Chromebook Pixel, and put it aside. My wife happily inherited the computer, and I bought a 13-inch MacBook Pro with Retina Display, abandoning Chromebook again.
There are many things I like about MacBook Pro, which screen resolution is comparably high to Chromebook Pixel: Audio fidelity of streamed music is punchier, my Sony MDR-1RBT Bluetooth headphones work, battery life is longer and Chrome tabs don't idle and force refresh (the 8MB memory makes a difference). There is the promise of better digital content manipulation, like photos or properly formatting ebooks for submission to major ebook stores.
But I find writing on Chromebook Pixel to be an overall better experience, for a combination of reasons -- Google Docs' uncluttered interface, superb keyboard and 3:2 display ratio high among them. I'm more creative on Chromebook than MacBook Pro. My wife and I discussed options within our budget. Our daughter's vintage aluminum MacBook (before the Pro name), purchased in October 2008, needed a replacement. Obvious approach: Give her the MacBook Pro for Sophomore year.
Pixel Perfect
But what would I use? My wife loves Chromebook Pixel; I couldn't let her go from the beautiful resolution experience to a lowlier Chromebook. I already missed out; in May, Google gave out Pixels at I/O, but because of a family emergency I couldn't attend last minute. Could I buy one perhaps, rather than spending $1,299 or $1,499 on a new Pixel?
Three weeks after adopting MacBook Pro, I bid for Pixel in eBay auctions, losing every one, after finding nothing on Craigslist locally. I considered Craigslist listings in Orange County. One caught my attention. I contacted the seller. Did he still have the Pixel? Yes. What is the condition. New, unused. He asked $950, and I was willing to pay. We agreed to meet at The Shops at Mission Viejo, a 69-mile drive. I had been to the mall once, Black Friday 2009 to shoot photos of the recently-opened Microsoft Store.
We both arrived early, chatted and separated. I'm grateful for his taking the time to drive 30 minutes and offering the Pixel at all. I arrived home and set up the Pixel in about one minute, simply by logging into my Google account. That's it!