Microsoft unveils new enterprise cloud solutions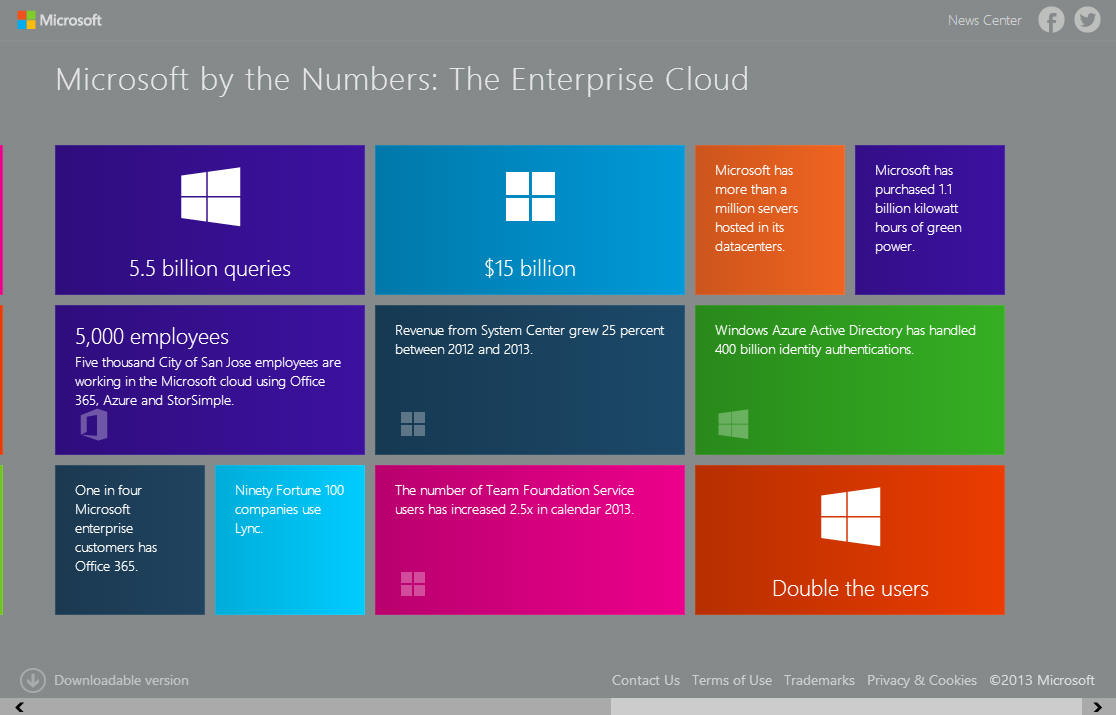 Microsoft has announced a number of new products to help companies embrace cloud computing. Windows Server 2012 R2 and System Center 2012 R2 will be released on October 18. These will use Hyper-V for high-scale virtualization, offer high-performance storage at dramatically lower costs, have built-in, software-defined networking and hybrid business continuity. The new Windows Azure Pack runs on top of Windows Server and System Center, enabling enterprises and service providers to deliver self-service infrastructure and platforms from their data centers.
Visual Studio 2013 and .NET 4.5.1 will launch at the same time allowing enterprises to take advantage of the new platforms. Recognizing that customers may want to take a hybrid approach to introducing cloud services, from November 1, Microsoft will offer Enterprise Agreement customers access to discounted Windows Azure prices, regardless of upfront commitment, without overuse penalties and with the flexibility of annual payments.
Microsoft is also introducing a dedicated cloud service for US federal, state and local government agencies with its Windows Azure US Government Cloud. This offers a closed community cloud for data, applications and infrastructure, hosted in the continental US and managed by US personnel. Windows Azure has been granted FedRAMP Joint Authorization Board Provisional Authority to Operate, making it the first public cloud of its kind to achieve this level of government authorization.
A second preview of SQL Server 2014 is released next week. This is said to offer between 10 and 30 times performance improvement without needing application rewrites or new hardware. The company will also release Windows Azure HDInsight Service next month, a Hadoop-based service for big data analytics. It works with SQL Server and business intelligence tools to combine public and private data in the cloud.
A new release of Windows Intune, also available on October 18, combines with System Center Configuration Manager to help IT departments give mobile employees security-enhanced access to the applications and data they need on the Windows, iOS and Android devices of their choice. A Microsoft Remote Desktop app will be available for download in application stores later this month, to provide easy access to PCs and virtual desktops on a variety of devices and platforms, including Windows, Windows RT, iOS, OS X and Android.
The next major version of the company's CRM solution, Microsoft Dynamics CRM Online Fall '13 will be available later this month, helping make customer interactions more personal via contextual information for deeper insights than the previous version, delivered across a variety of devices.
Finally, Microsoft Dynamics NAV 2013 R2 is now available, offering small and midsize companies interoperability with Office 365, full multi-tenant support, and a range of tools designed to support large-scale hosting of the application on Windows Azure.
Satya Nadella, Cloud and Enterprise executive vice president, says, "As enterprises move to the cloud they are going to bet on vendors that have best-in-class software as a service applications, operate a global public cloud that supports a broad ecosystem of third party services, and deliver multi-cloud mobility through true hybrid solutions. If you look across the vendor landscape, you can see that only Microsoft is truly delivering in all of those areas".
You can read additional comments from Nadella on the official Microsoft Blog. Or visit the company's Enterprise Cloud by the Numbers page to see more about its cloud strategy.