Twitter and Comcast announce See It -- control your TV with tweets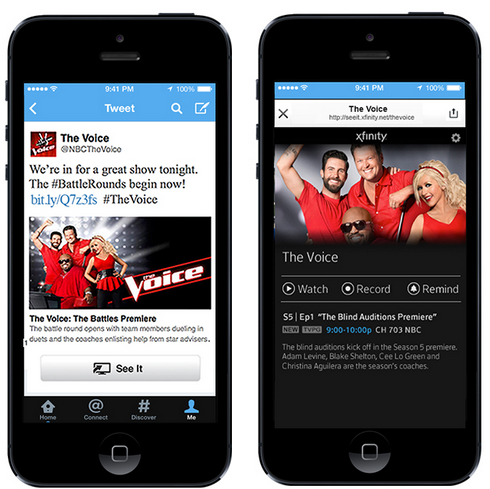 Folks are increasingly using Twitter while watching their favorite TV shows. A couple of days ago, Nielsen announced that viewers were becoming more engaged with television as a result. However, I argued that this could potentially distract users from both the programming and advertising. Today, Twitter and Comcast announce a partnership that looks to bring users to the TV with the power of tweets, rather than pull them away, with a feature called See It.
"It's a simple, but exciting tool that helps people more easily watch the shows they read about or discover online. See It lets people tune-in or record their favorite shows -- directly from the conversations happening on Twitter. In a typical week, #thevoice generates more than 350,000,000 Twitter impressions. What's missing is how to seamlessly move from that conversation to consumption. And that's where See It comes in", says Sam Schwartz, chief business development officer at Comcast.
He further explains "let's say that I'm riding home on the bus and I see tweets on my phone from friends, reporters and celebrities about something called 'Sharknado'. If I had only seen an ad about a sharks-meet-a-natural-disaster movie, frankly, there would be little chance that I would tune-in. However, all these tweets pique my curiosity, I click on the See It button in one of the tweets, and then use it to set a reminder to watch the movie later that night".
Dick Costolo, CEO of Twitter, says the network "is where television viewers come to talk about what they're watching on TV when they're watching it. Millions of users are exposed to the live conversation that unfolds on Twitter while a show is on the air and now, with See It, they'll be able to tune in directly from a Tweet. It's a great example of Comcast's leadership in bringing TV to new platforms".
Overall, this is a symbiotic and synergistic relationship that benefits TV viewers, content creators, Comcast and Twitter; everyone is a winner. It will be interesting to see if services such as Twitter replace the remote control for content navigation in the future.
Have you ever discovered media content on Twitter? Tell me about it below.