Microsoft updates Outlook.com Android app, adds multiple features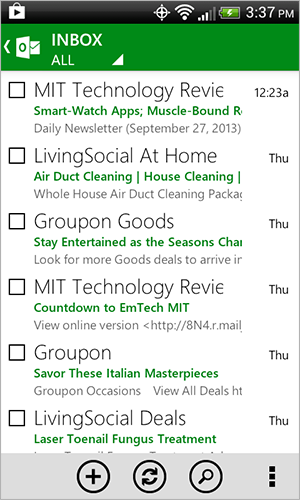 When Microsoft is not attacking Google with cheesy videos and questionable statistics, the software giant is busy trying to use the search company's platforms for its own gain. While we still anxiously await the arrival of Office (without a 365 subscription) on Android, we do have OneNote and Outlook.com, the latter of which is receiving a big update today.
"Our goal is to provide our customers with the best possible email experience, delivering the features that you've been requesting. We've listened hard to the feedback from you and made several improvements that you asked for", says Microsoft's Steve Kafka.
Included in today's release is server-side search, allowing users to search for email, encompassing not just what is on your device, but also what is stored on Outlook.com, preventing the need to sync all messages to the phone or tablet. However, if you do choose to go that route, this new version also provides an option to download all of your mail, regardless of how old the messages are.
The new update also adds mobile support for aliases, which have previously only been accessible from the web version. "Now you can send email from all your aliases in our Android app, just like you would in the Windows 8 mail app or on the web", the Outlook team claims.
Finally, the app brings support for colors, allowing you to alter the appearance to suit your tastes, as well as vacation replies to let those attempting to contact you know that you will be out of touch.
The latest Outlook.com app is available now in the Google Play store and is officially listed as version 7.8.2.12.49.0430. It requires Android 2.2 or newer running on your device.