Logitech UE MINI-BOOM -- small size but huge sound [Review]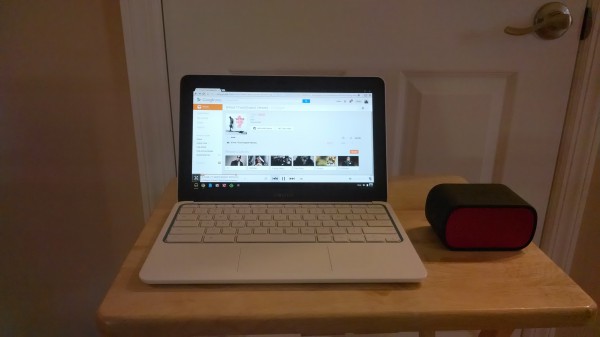 When it comes to Bluetooth speakers, they usually come with compromise. If they have good highs, they often lack bass. If they have good bass, they often sound muddy and muffled. Finding the perfect one is quite laborious -- especially when you want it to be attractive too (which I do). However, I am no audio-snob, I prefer to find value rather than throw money at the problem. After all, in this current economy, disposable income can be scarce.
When I first saw the Logitech UE MINI-BOOM, I was mesmerized by the design -- and the $99 price tag. It appeared subtle and well-made and I just adored the small size. However, sound is the most important thing; even though they are important, beauty and durability are secondary. And so, I obtained two of the speakers for testing. Why did I get two? Read on for that.
The first thing that I was impressed with was the packaging. The speaker comes encased in a block of clear plastic. It really gives the consumer the ability to see it from all angles while in a store. After peeling off some tape and removing the base, I was granted access to the speaker.
Holding it in my hand, I just had to smile. It is so startlingly small, that you can just rest it in your palm. However, I was more impressed by the solid feel. The Logitech UE MINI-BOOM is built like a tank but is extremely light. There is no flexing in the body, and it is wrapped in a durable rubber.
The first machine I paired it with is my desktop. This computer is a tri-boot, meaning it runs three operating systems -- Fedora 19, Windows 8.1 and OS X 10.9 Mavericks. I was able to test pairing with all of the OSes with great success. For my testing, I played an eclectic selection of music. While Hip-Hop (Rap) is my preference, I also enjoy music from Weezer, Talking Heads, Lorde and Skrillex -- all of which sounded great on the Logitech UE MINI-BOOM.
Amazingly, the sound is very balanced and without compromise --highs, mids and lows are all well represented. In other words, regardless of the genre, music sounds great. When listening to Jeru The Damaja, the bass was appropriate while vocals were clear. It has been my experience with other Bluetooth speakers, that bass would either be non-existent or too pronounced with muffled lyrics -- not here.
When listening to Weezer's self-titled debut album, the opening of "My Name is Jonas" was as bone-chilling as I remembered. The heavy guitar and opening solo were both wonderful and Rivers Cuomo's voice was not lost among them.
Lately, I have been getting heavily into the dubstep genre with artists such as Skrillex and Flux Pavilion. This particular type of music is hard to reproduce properly on most Bluetooth speakers I have tried. The reason being, it uses drums and samples from all sound registers in a very fast and repetitive way. I set up a dubstep radio station on Google Play Music All Access and listened to it all day. I am happy to say that the Logitech UE MINI-BOOM was no slouch here either -- it was like a dance club in my house (sadly, only my dog and I were invited).
In addition to my desktop, I also tested the Logitech UE MINI-BOOM with the brand-new HP Chromebook 11. Pairing was a breeze here too. Bluetooth audio on ChromeOS is a fairly new feature but it works flawlessly. It is actually a very freeing experience to go minimalist with a small Chromebook and tiny speaker. You can see the setup in the video below:
Earlier I mentioned that I obtained two of the speakers and there is a method to my madness. You see, on iOS and Android, you can use a special app to link two Logitech UE MINI-BOOM speakers together. You can then have both speakers play in stereo simultaneously or have each one represent the left or right channel.
I tested the feature and it worked great on Android. Sadly, that is my biggest complaint -- it only works on Android and iOS. I typically listen to my music at my desktop. I would have loved to place one on each side of my 23-inch monitor but there is no way to link them with a desktop operating system. I thought maybe that linking them with Android would permanently link them for use on other systems but unfortunately, no dice. It does have an analog input, so you could link them with a splitter and wires but that is just messy.
Since this is a portable speaker, battery life is important too. I am happy to say that it can go days without a recharge, and that is with very heavy usage. However, when the battery does die, the Logitech UE MINI-BOOM uses micro-USB to recharge. This means I can put it into a backpack with my HP Chromebook 11 and Droid Maxx with only one charger!
Overall, this is the best Bluetooth speaker I have ever used. It is solidly made, has excellent battery life and most importantly, it sounds amazing. At only $99, it wont break the bank and with the holiday season coming up, it would be a great gift for any person in your family. It comes in multiple colors too so feel free to pick your favorite one and start having a dance party in your house too.
Photo Credits: Brian Fagioli