Microsoft announces new friends app for Xbox One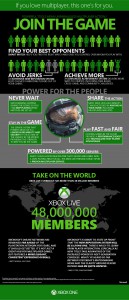 While Microsoft continues its onslaught to control your living room, the company has been slowly revealing features and aspects of the Xbox One. Social media and social sharing have become an expected feature for the console -- not an optional one. Today, Microsoft announces a new friends app for its upcoming gaming machine that brings people together socially.
Microsoft gaming-guru Major Nelson says, "designed around you and your friends, Xbox One will have plenty of room for all your favorite people in the brand new Friends system on Xbox One. Your Xbox 360 friends will automatically be added to your Friends list. With Xbox One you can have 1,000 friends, connect with people instantly by following them and have infinite followers yourself. You can also see all of your Xbox One and Xbox 360 friends and their activity in your Activity Feed".
In other words, the friends you have made on Xbox 360 will be ported over to your new Xbox One. However, much like Google+ circles, you can designate whether you want to be friends with someone or just follow them. However, what is the difference between the two?
"They are all considered your friends on Xbox One, but the levels of privacy between the two are different. You can follow anyone you want and it's completely up to them if they follow you back. You can also decide what information your followers can see about you...when you and another gamer mutually follow each other, it creates a more interactive relationship that unlocks the ability for you both to see information like when each other are online, what achievements you earn in real time and what you're up to on Xbox One", explains Nelson.
I can imagine the "follow" feature being heavily used by celebrities and professional gamers. For instance, the cast of The Big Bang Theory could share their gamer tags with fans. Obviously, they may not want to be "friends" with thousands of gamers (and stalkers). However, it could be fun for fans to follow the progress and activity of these celebrities.
Rob Lehew, Xbox Live Program Manager, further explains, "a great driver in 'Forza Motorsport 5', for example, could have a huge group of thousands or even millions of followers all tracking their performance in-game...those followers can have this driver on their personal leaderboard so that they can constantly keep track of how they stack-up, and they can potentially connect online with the driver to get into a race with him".
Xbox fans, are you excited about this new social-focused friends app? Do you like the idea of following other gamers? Please tell me in the comments below.