Windows Phone 8 Update 3 meets the public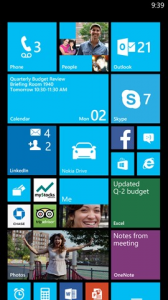 While there are some Windows Phone 8 customers out there who have only just received the GDR 2 update for their handsets, Microsoft is looking towards the future already, preparing the next iteration of its mobile operating system.
Today the company takes the first step towards pushing it out, announcing features and developer availability.
Included in GDR 3, which is now being called Update 3, will be support for bigger screens. "The new update paves the way for future Windows Phone devices with 5- and 6-inch touch screens. The larger, 1080p HD displays on these devices will make Windows Phone even more personal -- for example by sporting jumbo-sized Start screens with room for six Live Tiles across instead of four", says Darren Laybourn, Corporate Vice President for Windows Phone.
To go along with the extra screen real estate afforded by these larger devices, Microsoft promises that hubs, like Video and People, will scale to take advantage.
The update also aims to take advantage of the ever-increasing power of today's hardware -- version 3 will support the Qualcomm Snapdragon 800 quad-core processor.
A new Driving Mode attempts to keep you a bit safer during your commute. "Working with a connected Bluetooth device, Driving Mode is designed to limit notifications on the lock screen -- including texts, calls, and quick status alerts -- until you're safely parked", Laybourn points out.
Update 3 also brings along better accessibility features, with a suite of apps designed for the hearing and sight-impaired. A screen reader, among other things, will aid with managing calls and contacts, sending texts and emails, as well as browsing the web.
In addition, you will be able to use custom ringtones for messages, emails, voicemails, and reminders; take advantage of rotation lock; and use the new category view to show what's taking up space on your device.
Developers can begin installing Update 3 later today, which means that anyone who wishes to download and install the free SDK 8 will also be able to get this latest version now as well. A word of caution though -- you cannot roll back to a previous version once this is installed.