Avast 2014 available -- new look, better protection, faster scans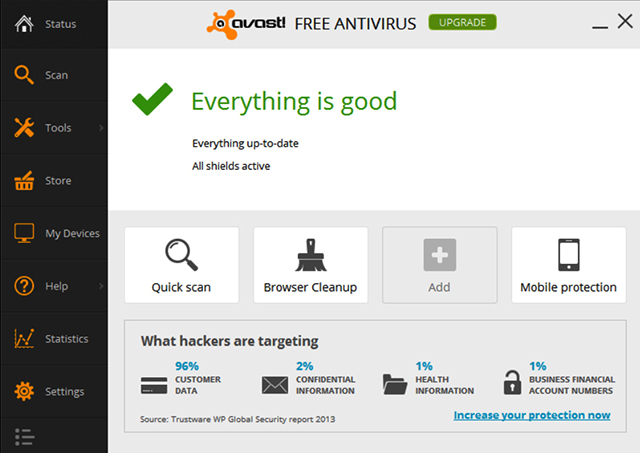 Avast Software has announced the release of Avast 2014, the latest edition of its antivirus and internet security range. The new build is now available in four consumer variations: Avast Free Antivirus, Avast Pro Antivirus, Avast Internet Security, and Avast Premier.
Every edition benefits from a range of new protection features. There's enhanced streaming updates for real-time detections; a new DeepScreen technology helps the program make smarter decisions about unknown files; extended cloud scanning again assists in detection; and if something does turn up, then improved cleaning will get rid of it more reliably.
If you need more then a new "Hardened" mode can be set up to run only known safe programs. It's a little drastic but can work well for inexperienced users.
Raw scan performance is much improved, for some file types at least; EXE files are now checked around twice as quickly, text contents (web pages, scripts) are up to 10x faster. Keep in mind that these are the in-memory scan times, though. Your system will still need to load the content in the first place, so final scan times won't change very much.
New web technologies include an extended do-not-track feature in the browser plugin, which Avast claims "uses a proprietary technology that cannot be overridden by the servers". A simplified SafeZone now automatically opens shopping and banking sites to protect your transactions, and you're able to switch between the SafeZone and your normal browser with a click.
All of this is presented in a vastly simplified and more configurable interface. And integration of your my.avast.com account means you're now able to manage all your Avast 2014 installations from within the program.
The final verdict on Avast 2014 is going to require considerably more testing, but our first impressions are positive. Check out Avast Free Antivirus 2014 or Avast Internet Security 2014 and find out for yourself.