BullGuard Internet Security gets improved detection and a better interface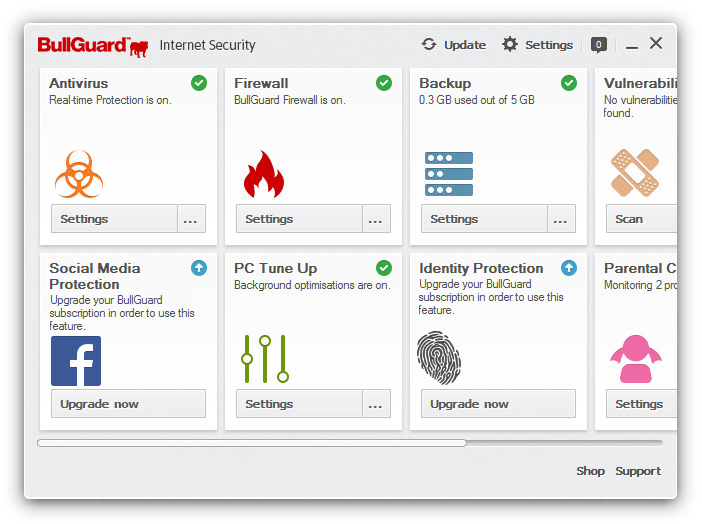 Security specialist BullGuard has launched what it's calling its most advanced Internet Security suite yet. It's designed to offer industry leading protection regardless of the user's ability and to run quietly and efficiently in the background.
Aside from dropping the year from the product's name, highlights of the latest version include an enhanced behavioral detection engine to guard against zero day threats, a revised user interface offering easier one-click access to functions, free 24/7 support and free upgrades to newer versions.
A choice of basic and advanced displays ensures that anyone can make the most of the package. Unneeded or unwanted functions are hidden to simplify operation. Alex Balan, Head of Product Management at BullGuard, says, "It is our most advanced security suite yet, and one that offers a significantly improved degree of control and operation".
Outside the core security functions the package offers an array of other tools. These include online backup with 5GB of free storage, a Vulnerability Inspector that checks installed applications for updates and known exploits, a PC Tune-up module and parental controls.
The new interface uses Windows 8-style tiles to offer a consistent feel and easy access to all modules. The package protects three PCs for a year and there's a 60-day free trial available from the BullGuard website.
Balan concludes, "As ever, we've placed a strong focus on ensuring that our excellent reputation in the security market remains intact by revising and improving core security. We've also further improved usability by ensuring that the majority of tasks can be set to run in the background, with as little user interaction and impact on system resources as possible. In short, once installation is complete a user can let it do its job with minimal interaction".
If you have an eye for a bargain, you can pick up last year's version from the Downloadcrew store at a substantial discount.