Lenovo Miix2 -- an 8-inch Windows 8.1 tablet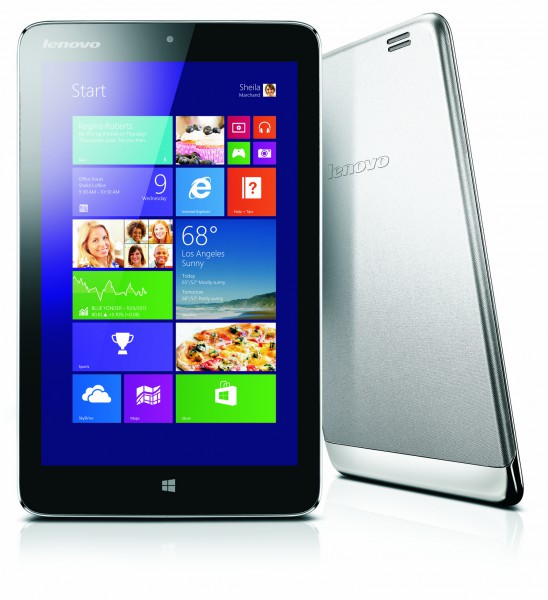 Small tablets are very popular lately; the Nexus 7 and iPad Mini are two great examples of that. However, even though Windows 8 is designed for touch, a quality small (8-inch and below) tablet has eluded consumers. My experience with the Acer Iconia W3 was epically bad -- the screen and overall build quality were poor. Sadly, this device may have harmed consumer confidence in small Windows tablets.
Today, Lenovo aims to greatly improve the perception of reduced-size Windows devices as the company announces the Miix2 8-inch tablet. By combining the computer manufacturer's well-known build quality with the much improved Windows 8.1 operating system, the company should have a winner on its hands.
The tablet runs Windows 8.1 and not Windows RT. While this may be important for some consumers, I question the usability of desktop applications on such a small screen. Quite frankly, the RT variant would probably work just as well for users looking to live in the Modern UI. However, the price starts at $299 with up to 7-hours battery life, so having "full-blown" Windows in this case, is just a bonus.
The long battery life and low price is thanks to the Intel Bay Trail-T Quad Core processor that is inside the dainty tablet. While this processor is based on Atom architecture, it provides a boost to performance and battery life compared to its predecessors. Quad-core performance at this price point is very exciting.
To add to the value, the Miix2 will come pre-installed with Microsoft Office Home & Student 2013. Sadly, Microsoft has still not created a Modern UI version of the office suite. Creating and editing documents using the desktop programs may prove to be laborious on such a small screen. However, you can't argue with free -- it is nice to have if you need it.
Lenovo highlights the following specs:
Intel Bay Trail-T Quad Core processor
Genuine Windows 8.1
8-inch HD display (1280x800) with multi-touch and 178 degree wide viewing angle; 16:10 widescreen IPS
2GB LP-DDR3 memory
32/64 GB eMMC storage (expandable with a micro-SD card)
Weight: 0.77 lbs
Dimensions: 5.18" x 8.48" x .32"
Integrated Bluetooth 4.0, 802.11b/g/n Wi-Fi and 3G-GPS3 connectivity
2MP front camera / 5MP rear camera
Up to 7 hrs. of battery life
Price: $299 (32GB) and $349 (64GB)
Cover with stylus-pen -- $20
Overall, this seems to be a great value tablet and consumers should take a look when it is released later this month. While the Acer Iconia W3 had a horrid screen, the IPS variant found here should be gorgeous. Consumers can also obtain both a cover and stylus for $20 total -- a great deal that will improve the usability for students and professionals alike.
Are you excited about a $299, Quad-Core, 8-inch tablet running Windows 8.1? Tell me in the comments.