Lenovo announces the A10 Android laptop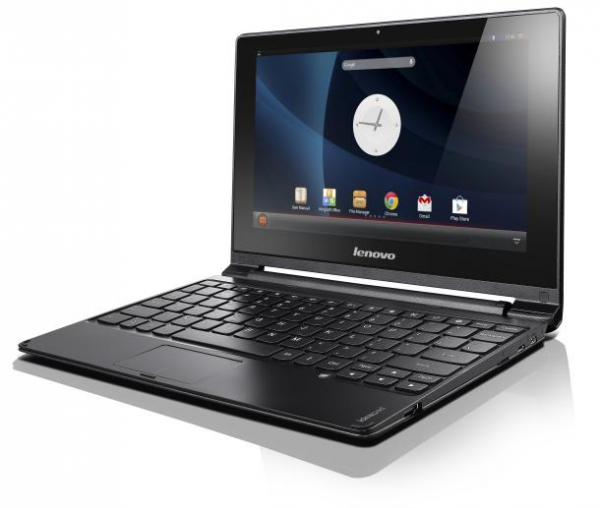 Google has an operating system for the desktop and laptop form-factors called Chrome OS. However, the company also has the Android operating system, which is designed for mobile devices like smartphones and tablets. This prompts many pundits to posit "why not just have Chromebooks run Android, as that OS can run the Chrome browser, and much more". And you know what? They are kind of right.
Sadly though, those people are mostly wrong; bless their hearts. You see, less is more in this case, and a lack of local apps breeds out of-the-box web app thinking, which is good. However, despite this, a number of manufacturers have released Android laptops but none of them took the world by storm. Today, Lenovo hopes to change that and releases the A10 -- an Android laptop with a 10.1-inch screen.
Lenovo says the device is "an affordable, ultra-portable, dual-mode laptop and the company's first to run on Android 4.2 OS. Weighing less than 1kg and measuring just 17.3mm at its thickest point, the Lenovo A10 is an ideal companion for users on the go, providing easy access to a wide range of apps on a unique, dual-mode platform, which enhances the user experience for entertainment and Web browsing as well as productivity".
The computer manufacturer further says, "the Lenovo A10 is powered by an RK3188, quad-core Cortex-A9 processor, running at a maximum frequency of 1.6GHz, the highest frequency for all quad-core ARM-based CPUs currently available. The Cortex-A9 processor delivers solid performance for gaming and entertainment purposes, as well as enhances users' ability to multitask and be productive. In addition, the A10's battery supports up to nine hours of continuous video playback, ensuring that it is ready to perform, both on the road and at the desk".
Lenovo has been on a multi-mode computing kick lately, with their Yoga line of laptops. This Android laptop is no different -- the screen can fold partly back so the keyboard can act like a stand. Sadly, there is no tablet mode -- the screen does not flip around all the way. This severely limits the usefulness of the device.
While Lenovo calls the laptop affordable, they have not officially announced pricing, other than to say it will vary by region. However, with Haswell Chromebooks being priced as low as $249, an ARM-powered Android franken-computer with a small screen may be a hard sell.