Microsoft Lync voice leads the enterprise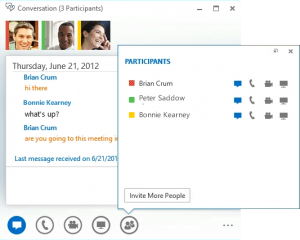 The traditional telephone and email setup at many businesses is dying. This old-school approach is no longer efficient. As crazy as it is to call email "old school", that is exactly what it is. Many business users want the ability to reach out in real-time, with the option to escalate the interaction to voice or screen-sharing. Lync is the dynamic software solution which is trailblazing the corporate world.
If you aren't familiar, Lync is a business-focused instant messaging client for Windows. However, it is so much more than that -- it is a communication service that brings colleagues together. It provides VOIP, instant messaging, video chat and screen-sharing. The magic of the software is the integration with Outlook -- your status can be automatically updated to reflect your meetings and appointments. Today, Microsoft announces that adoption of the software is booming.
"Interest in Lync is huge, based on a recently released report by Infotrack. This year, almost 60% of enterprises (500+ seats) surveyed are deploying or planning to deploy Lync, including enterprise voice, up from 45% last year. The proportion of enterprises with no plans to deploy Lync for voice dropped dramatically, from 21% down to only 7%. Finally, one in four enterprises now report Microsoft as their preferred vendor for IP-PBXs, a number unheard of back in 2010", says Microsoft.
The company further says, "at Microsoft's recent Financial Analyst Meeting, Microsoft COO Kevin Turner shared -- based on a comparison of our internal sales information to the enterprise telephony shipments of every PBX maker, including Cisco and Avaya, as provided by analyst firm, T3i -- that Microsoft is now shipping more enterprise voice lines than any other technology company in the world".
Between Lync and  tomorrow's imminent launch of the Surface Pro 2, Microsoft is providing businesses with both forward thinking software and hardware. Say what you will about the company on the home consumer front, but from a business and enterprise standpoint, it is still the undisputed king.