Meet Nokia's largest Windows Phones yet -- the Lumia 1520 and 1320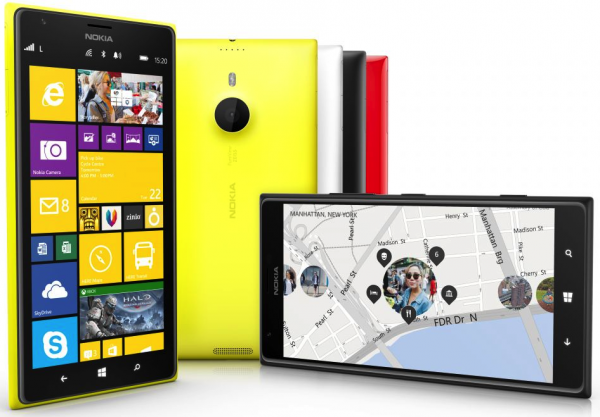 Finnish mobile maker Nokia has taken the wraps off its latest, and largest, Windows Phone 8 devices, called the Lumia 1520 and Lumia 1320. The smartphones represent the company's entry in the phablet market, which so far has been dominated by Android handsets from Samsung's Galaxy Note series.
Nokia has built the Lumia 1520 and Lumia 1320 around Windows Phone 8 Update 3, that ships with support for 1080p displays and quad-core Qualcomm Snapdragon 800 processors. Both hardware features have been available on Android smartphones but were missing from devices running Microsoft's tiled OS which only supported up to 720p displays and older Snapdragon S4 processors.
The Lumia 1520 features a 6-inch LCD display with a resolution of 1080 by 1920. The larger screen makes way for another column of medium live tiles. The smartphone is powered by a 2.2 GHz quad-core Snapdragon 800 processor backed by 2GB of RAM and a 3,400 mAh battery with built-in wireless charging support.
On the back the Lumia 1520 offers a 20 MP camera with optical image stabilization. As usual, Nokia complements it by also adding its own camera imaging software, with new apps. Nokia Camera merges the existing Nokia Smart Cam and Nokia Pro Cam, with users being able to switch between the two available shooting modes. Nokia Storyteller creates a photo map (uses HERE Maps), after fetching the location information, and displays the pictures in chronological order. And, last but not least, the Finnish firm announced that Instagram is coming to Windows Phone 8, in the coming weeks.
"Our ultimate goal is to bring Instagram to everyone who wants to use it", says Instagram CEO and co-founder Kevin Systrom. "We're looking forward to watching the Windows Phone community use Instagram to capture and share beautiful moments in the coming weeks".
Vine was also reconfirmed to arrive in Windows Phone Store, however we have been hearing this since the Lumia 1020 unveiling in mid-July and it has yet to happen. Let's hope that both apps will arrive in a decent time-frame.
On the front, the Lumia 1520 comes with a rather mundane 1.3 MP camera which can record 720p video. By contrast, the 20 MP PureView back-facing camera can record 1080p video (there is no support for 4k video recording yet, even though the processor supports it) with "rich recording" thanks to four microphones.
The Lumia 1520 comes with 32 GB of internal storage and, for the first time in a Lumia Windows Phone 8 flagship, a microSD card slot that can accommodate memory cards up to 64 GB in size (works only for music, photos and video storage).
Other noteworthy hardware specifications include: 4G LTE cellular connectivity, Bluetooth 4.0, Wi-Fi 802.11 a/b/g/n/ac and NFC (Near Field Communication).
Nokia's new Windows Phone 8 flagship comes in at 162.8 x 85.4 x 8.7 mm and 209 grams.
The Lumia 1520 is set to arrive in Hong Kong first, followed by Singapore, United States, China, France, Germany, UK and "other European markets". The smartphone will be available for a whopping $749, before any taxes and operator subsidies, in red, black, yellow and white.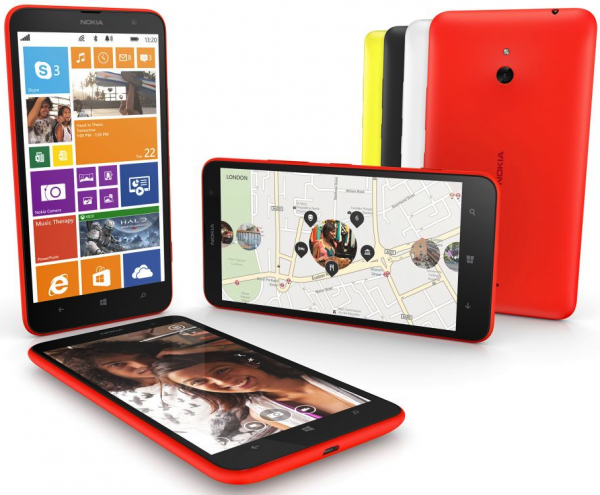 The Lumia 1320 is, by contrast to the Lumia 1520, less impressive. The handset also sports a 6-inch display but it offers a lower resolution of 720 by 1280. Similarly, it is powered by a 1.7 GHz Qualcomm Snapdragon S4 with 1GB of RAM and a 3,400 mAh battery (the last of which is the same capacity as in the Lumia 1520).
Other noteworthy specs include: 5 MP back-facing camera with 1080p video recording, 0.3 MP front-facing camera with 480p video recording, 4G LTE cellular connectivity, Bluetooth 4.0, microSD card slot and support for the new Nokia Camera app. The Lumia 1320 measures 164.2 x 85.9 x 9.8 mm and weighs 220 grams.
The Lumia 1320 will be available for $339, without any local taxes and operator subsidies, in black, orange, yellow and white.
Both the Lumia 1520 and the Lumia 1320 ship with Nokia's Lumia Black firmware, which is based on Windows Phone 8 Update 3. The software upgrade will be rolled out to existing Windows Phone 8 handsets "early next year".