PaaSLane cloud migration tool enters public beta phase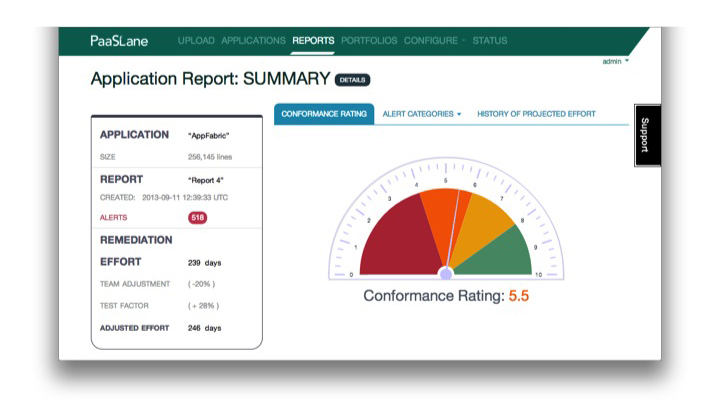 Migrating existing applications to the cloud can be a major headache for companies. Extensive testing is needed to ensure everything works as it should and without it the process becomes something of a leap in the dark. In a bid to help with this Boston based Cloud Technology Partners has produced its PaaSLane product, released today as a free public beta.
The idea behind PaaSLane is a simple one, automatically analyzing the code of an application before migration in order to cut down the amount of manual effort required. Out of the box the software is tuned generically to work with all cloud platforms, so it's compatible with Azure, Google and Amazon Web Services. However, users can define their own rule sets to take account of special requirements or non-public clouds.
"As cloud adoption accelerates, our customers are looking for ways to automate assessing for cloud readiness across hundreds of applications. Software development organizations need an effective way to clearly identify issues and estimate the effort required to optimize applications for the cloud," says John Treadway, senior vice president at Cloud Technology Partners. "PaaSLane finds issues and estimates the time required to address them in a matter of minutes, giving management an objective measure of cloud readiness across application portfolios, while providing development teams with a roadmap to start fixing them immediately".
As well as assisting the migration, PaaSLane can help to streamline the code, enabling developers to spot any sections that may cause problems and help with ongoing compatibility and stable operation. It uses static code analysis to examine application source code, finding common patterns that might affect application performance, stability, security, and scalability in cloud deployments. It then provides recommendations based on cloud best practices. The program shows clear, graphical overviews of a project's progress with the ability to drill down to the level of individual lines of code. The developers reckon that PaaSLane can cut migration times by up to 25 percent.
You can register for the public beta now at www.paaslane.com and it will remain free until the end of the year or until the beta period ends whichever comes first.