Surface Pro Docking Station makes an early surprise appearance [Update]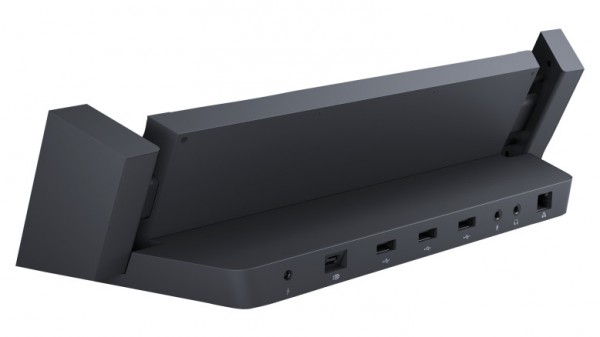 When I attended the Surface event in September, I was very impressed with the hardware -- the tablets and accessories. While I was most enamored with the Blade concept, I was also interested in the Surface Pro Docking Station. I had some hands-on experience with the accessory and found it to be well-built and fun to use. It felt very futuristic and simplistic -- you press the sides of the dock into the tablet. It felt like playing with Lego blocks.
While the Surface Pro 2 was released on October 22, the docking station was scheduled for next year, in 2014. This was a huge blow to business users especially, as it enables the device to act as both a tablet and a desktop (perfect for an on-the-go executive). However, out of the blue, the docking station becomes available today. Pull out that credit card.
Sadly, this accessory will not work with the Surface RT or Surface 2 -- Windows RT variants are excluded. However, in addition to the Surface Pro 2, the original Surface Pro is supported. A $199 docking station would likely prove unpopular with the RT crowd anyway, as it costs nearly half of the $449 Surface 2 price.
The dock offers the following ports:
Power supply input
1 USB 3.0 Port
3 USB 2.0 Ports
Ethernet port (10/100 Ethernet RJ-45)
3.5 mm audio input/output connections
1 mini DisplayPort
It is disappointing to see a lack of gigabit Ethernet on the device. However, despite that shortcoming, the dock remains a wonderful piece of hardware that expands the usability of the laptop-replacing tablet.
Update: And like that, it is out of stock. Now the conspiracy theories can begin -- was it popular or was there very limited stock?