WordPress 3.7 brings automatic updates, smarter search results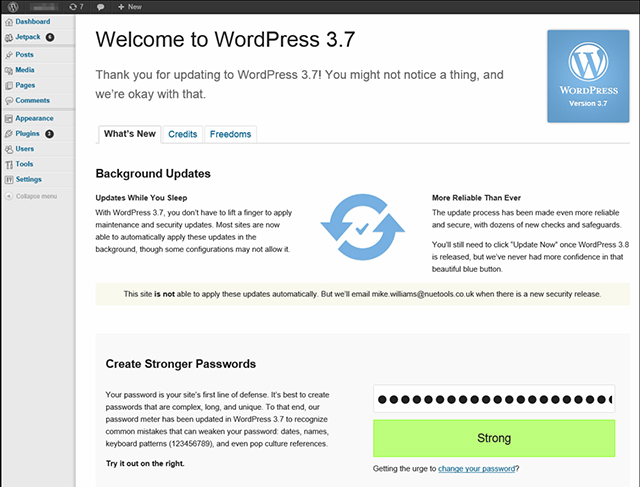 The WordPress team has announced the release of WordPress 3.7 (code-named "Basie", for Count Basie), a notable upgrade with some worthwhile maintenance, security and usability tweaks.
Top of the list is automatic updates for maintenance and security updates. This should work just fine for most people, but if you're out of luck then you'll be informed after updating to 3.7, and instead you'll get email alerts of new security releases.
Is updating reliable enough that you can leave the system to manage this on its own? That's what's being claimed: in WordPress 3.7 "the update process has been made even more reliable and secure, with dozens of new checks and safeguards".
If you're still not happy with the default settings, there's plenty you can do. New update controls mean you can turn automatic updating off altogether; apply it just to particular plugins; or maybe set the system to always update automatically, even for major releases.
Weak passwords are another significant security issue for many WordPress installations, but the new release tries to counter that with an enhanced password meter. It will now detect keyboard patterns (12345678), names, dates, even "pop culture references", apparently, warning you of any potential problems.
Elsewhere, searches have gained some intelligence, with results being ordered by how well they match a post, instead of by date. Search terms which match a post title, say, will appear at the top of the list.
Developers also gain new search options, in particular with regard to dates, where it's now possible to search for posts within a date range, or which are older or newer than some defined point in time.
WordPress 3.7 is available for download (or by updating -- manually, of course) now.