Google+ custom URLs rolling out to all users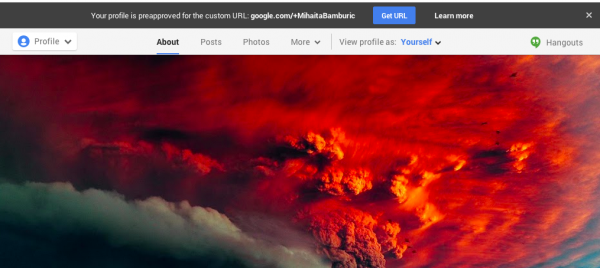 In mid-August 2012 Google decided to give a select number of users custom URLs for their Google+ profiles. My colleague Joe Wilcox is one of the lucky few who received one. The change would make profiles easier to link to and share as the address is simpler to remember, read and write, with the Plusser's name replacing the string of numbers usually associated with it.
Late-yesterday, Google announced that all Google+ users will be able to take advantage of custom URLs for their profiles. The option is rolling out "throughout the week", to those who meet the search giant's permissive eligibility criteria.
Basically, to take advantage of custom URLs Google+ users must have a profile photo, a minimum of 10 followers and an account that is at least 30 days old. Those who meet these requirements will receive a banner notification at the top of the Google+ page, informing them of the availability of their custom URLs. The verification for the change is performed by typing a security code received via SMS.
All brands that have linked websites or are verified local businesses can claim custom URLs.
By default, Google+ assigns a custom URL with the user's complete name in the address, like plus.google.com/+MihaitaBamburic. Users can claim a different one, by invoking a reason for it -- like other people knowing him or her by another name -- with their request to be approved or denied in a couple of days. Once the custom URL is accepted, users will be unable to change it according to Google.
Have you claimed yours yet?