RIP iGoogle -- 2005-2013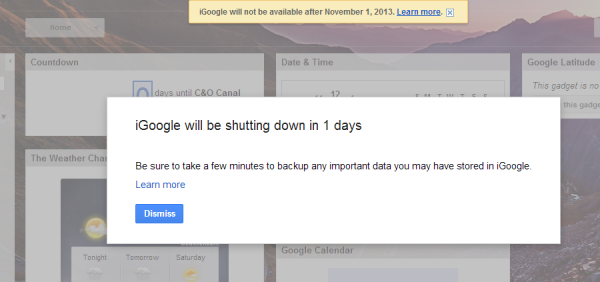 It may no longer be All Hallows Eve, but the Day of the Dead is still firmly on our calendars and, perhaps in some twisted way, Google purposely chose this time to off one more service. Today iGoogle, the once popular homepage service, walks the Green Mile to meet its end on this most fitting of holidays.
The service will pass to the afterworld, joining a number of siblings already residing within the Google graveyard. The personalized homepage debuted back in 2005, but has since faded to an obsolescent technology thanks to the web moving forward and operating systems becoming better equipped to handle the same tasks.
While iGoogle was quite capable of displaying your weather and email in one location, today Windows 8 can match it with its Start screen. Smartphones and tablets keep us updated of what is going on in our worlds as well.
Despite Yahoo touting its renewed effort to revive this market of web homes, the idea seems dead in the water. Many of us simply start on Google or MSN or, even better, tell our browsers to open all tabs present upon the last session.
iGoogle enjoyed a nice run and, as a part of web history, it will be missed. But companies like Yahoo that look to revive this technology are likely in for a rather tough go of things.