Jelly Bean surges past 50 percent Android market share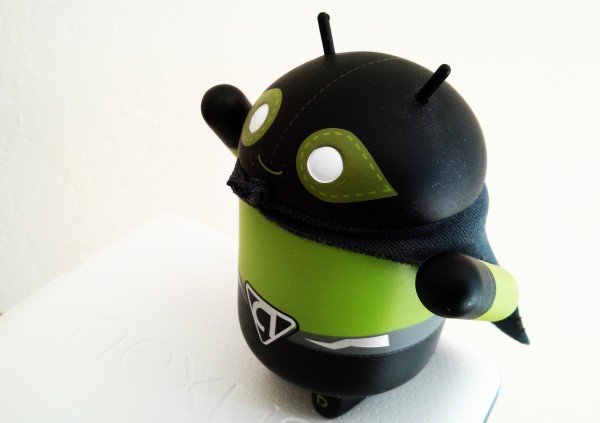 Android has long been blamed for its fragmentation issues, with many pundits pointing out to the low adoption levels of the latest distributions as the main culprit. While this problem has yet to be resolved due to the nature of the operating system, it is much improved today as the Jelly Bean branch is now powering most Android smartphones and tablets.
Based on the number of devices accessing Google Play in the seven days ending November 1, Jelly Bean's market share in the Android realm is now at a dominating 52.1 percent. Combined, its three iterations have a higher distribution level than Ice Cream Sandwich and Gingerbread put together, which is a first for the green droid landscape.
All three Jelly Bean iterations have grown in market share (or distribution level), with Android 4.3 posting the highest growth, to 2.3 percent in November from 1.5 percent in October. While the 53.33 percent increase is impressive, this version is still too far behind its older siblings, Android 4.2 and Android 4.1, in terms of sheer numbers.
Android 4.2 runs on 12.5 percent of all devices -- up 17.92 percent, from 10.6 percent in October. Android 4.1 leads the pack with a whopping 37.3 percent share -- up 2.1 percent, from 36.5 percent in October.
Android 4.1 will grow slower by the month but will continue to remain dominant for quite some time. As manufacturers upgrade their existing handsets and release new ones, Android 4.2 and Android 4.3 will increase in distribution level. So far, the latest Jelly Bean iteration only runs on a small number of devices, which explains its standing. I, however, believe that neither Android 4.2 nor Android 4.3 will match Android 4.1's distribution level anytime soon.
Google is also trying to steer manufacturers towards Android 4.4 KitKat, through optimizations targeting entry-level devices with 512 MB of RAM, and push them away from older iterations.
The search giant is also trying to move features towards Android services and apps, which the company can frequently update via Google Play without external interference, from hardware makers or mobile operators.
I believe that these two strategies, combined, will aid the new distribution in surpassing its predecessor in the next half-year (probably sooner). KitKat has yet to make an appearance in the Android distribution charts. It was launched prior to the day that Google ended the data collection period, and has yet to even roll out to compatible Nexus handsets.
It is all downhill for pre-Jelly Bean distributions. Except Honeycomb, that remains at a constant 0.1 percent, all other iterations have lower distribution levels. Ice Cream Sandwich dropped to 19.8 percent from 20.6 percent, Gingerbread decreased to 26.3 percent from 28.5 percent and Froyo reached 1.7 percent from 2.2 percent (in November, compared to October).
Naturally, these distributions will continue on the same descending path going forward, as new devices and software upgrades mostly arrive featuring newer versions of the green droid OS.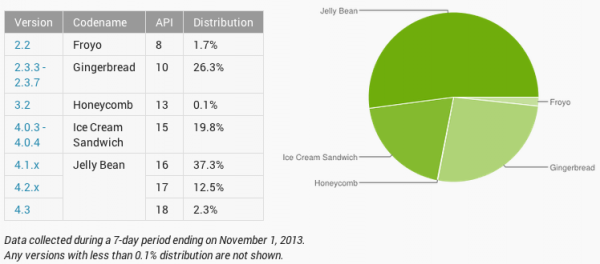 Photo Credit: Joe Wilcox