Lenovo Yoga Tablet 10 -- a cruel joke [Review]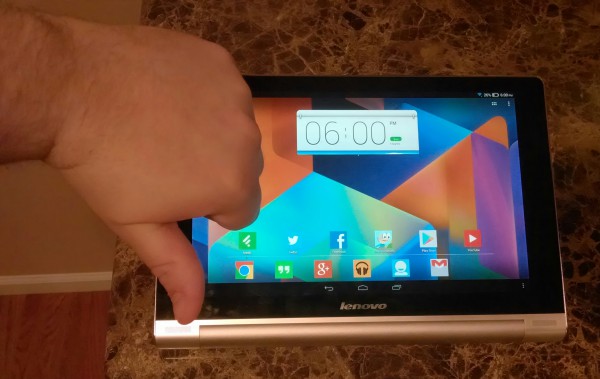 The Lenovo Yoga 10 tablet looked great... until I turned it on. You see, when I did the unboxing, the build quality felt solid. Holding it my hands, I had high hopes; the integrated kickstand was intriguing. The tablet itself resembles an Apple Magic Trackpad.
While most tablets are just rectangular slabs, the integrated kickstand allows the Yoga to stand up on its own. I was particularly blown-away by just how well-made the kickstand is; it's crafted from thick aluminum. This enables the tablet to be used as a display for watching video services like Hulu Plus or Netflix. However, the overall package is a cruel joke -- beautiful on the outside but horrible on the inside.
The tablet features three modes of usage -- Hold, Tilt and Stand. This continues the multi-mode tradition of Lenovo's Yoga line. In Hold mode, the tablet acts like any other tablet as it is held in the user's hands. In Stand mode, the tablet stands upright with the built in kickstand. With Tilt mode, the tablet is propped up at a slight angle for typing.
The Bad
The tablet has front-facing speakers for better audio. In stand mode, the kickstand and speakers make it seem very valuable as a portable media-consumption device. Sadly, this proves to be false because, quite frankly, the screen is horrible. Colors are washed out and text is not at all crisp. I would expect a screen like this from a no-name generic company -- not Lenovo.
While the tablet seems like good value at $299, it is not. Clearly, the cost savings were enabled by using an extremely poor display. Maybe I am spoiled by seeing the beautiful displays on the Nexus 7 2013 and Surface 2; you can't unring a bell and you can't unsee a beautiful display. At this point, it is unacceptable to expect users to buy a device with such an unusable display.
While the build quality mostly feels solid, the power button does not. Curiously, Lenovo chose a giant deep-depressible button. It feels cheap and weak, as if it will eventually break. From a functionality standpoint, when trying to use it to take screenshots, it was frustrating. On Android, screenshots are done by holding-down the power and volume down buttons. With this tablet I found it nearly impossible to time and almost always turned the tablet off or turned the volume down instead; it is maddening.
The company chose to embed the notification light into this power button too, which is not an ideal location, as most users want to glance at the device head on; not turn it around to face the side.
Lenovo has customized the experience with a launcher and graphical changes. Sadly, these customizations are sloppy and the launcher is inferior to stock. Luckily, you can install your favorite launcher from the Play Store to create a somewhat usable experience. When adjusting volume I noticed a graphical glitch where the rounded edge of the volume slider was in reverse on the left. It is a small thing but shows a lack of refinement.
There is also some bloatware installed such as Norton Antivirus. This app could not be uninstalled without root, which is unacceptable for an unsubsidized Wi-Fi only device (or any device to be honest).
Sadly, the tablet is grossly under-powered. The MT8125 Quad Core 1.2GHz processor and paltry 1GB of RAM create an overall poor experience. Doing something as simple as swiping through home-screens is painful -- full of lag and ultimately very slow. Playing a game such as Granny Smith or Riptide GP produced stutter, so that I could not enjoy them.
For connectivity, the device supports Wi-Fi. However, future models will also support cellular connectivity with a SIM card slot. Shockingly, the tablet only supports 2.4GHz Wi-Fi -- 5GHz is not an option. This is simply inexcusable on any device in 2013 and a deal-breaker for me.
Specifications
| | |
| --- | --- |
| Processor | MT8125 Quad Core 1.2GHz |
| Operating System | Android 4.2.2 Jelly Bean |
| Display/Resolution | HD display (1280x800) with multitouch and 178 wide viewing angle |
| RAM | 1GB LP-DDR2 memory |
| Storage | 16GB eMMC |
| Audio | Dual front-facing speakers with Dolby Digital Plus DS1, Microphone with noise reduction |
| Ports | Micro USB, micro SD slot, 3.5 millimeter audio jack, micro SIM slot (3G only supported in select regions) |
| Network | Wireless 802.11b/g/n Wi-Fi, BlueTooth 4.0 |
| Camera | 5M rear camera, 1.6M HD front camera |
| Battery | Li-Ion, 9000 mAh |
| Weight | 1.33 pounds (605 grams) |
| Dimensions | 10.28 x 7.09 x (.12 - .32) inches (261 x 180 x (3.0-8.1) millimeters) |
The Good
Not all is bad with the tablet, the battery life is simply magnificent -- a class leader. The giant cylindrical hump, created by the kickstand, has allowed Lenovo to fit two high-capacity batteries in the device. Lenovo claims 18-hours of usage but I have easily surpassed that, having recharged my other devices many times before needing to charge this once. In fact, the battery is so powerful that it can charge your other devices over USB with an optional cable.
As I mentioned earlier, there are front-facing speakers and these are actually good. While not very loud, the channel separation is impressive and I truly heard stereo sound. When watching YouTube videos, speech was noticeably improved over my smartphone or Nexus 7.
Another plus is that root is easily achievable using the Framaroot app for Android. This means a beginner can easily gain root-access using existing exploits. This worked even after an over-the-air update. While custom ROMs should eventually come to fruition, the popularity of the device will ultimately determine the frequency and quality of the ROMs.
The Ugly
Overall, I cannot recommend this tablet. For $299 or less, you would be much happier with an iPad Mini, Nexus 7 or Galaxy Tab 3 8.0. If you are set on buying a 10-inch Android tablet, spend a bit more and get a Nexus 10. The compromise on performance and screen quality is not worth the cost savings -- you will be miserable. Ashton Kutcher and his engineering team need to head back to the drawing board -- a better screen and processor will make the second-generation worth considering.