Amazon ships Kindle Fire HDX 8.9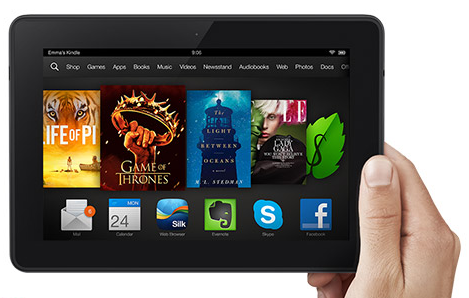 Amazon began shipping its seven-inch Kindle Fire HDX back on October 18, going directly after the Google Nexus for supremacy of the low-price tablet market. Now the company follows up by announcing that the larger version is heading out the door today.
The 8.9-inch Fire HDX weighs in at 13.2 ounces, which Amazon claims makes it "the lightest large-screen tablet". It also features a 339 ppi display, and boasts three times the processing power, two times the memory and four times the graphics performance of the previous generation. Fire OS 3.0, the new mobile operating system, also features a "mayday" button -- for those in need of a bit of hand-holding.
"This is the best tablet we've ever built, and we can't wait to see what our customers think" claims Peter Larsen, Vice President of Amazon Kindle.
Prices for this model begin at $379 for 16 GB, and range up to $429 for 32 GB and $479 for the top-end 64 GB tablet. Unlike some other recent product debuts, all models are listed as currently in stock.