Windows Phone still has a long way to go before threatening Android or iOS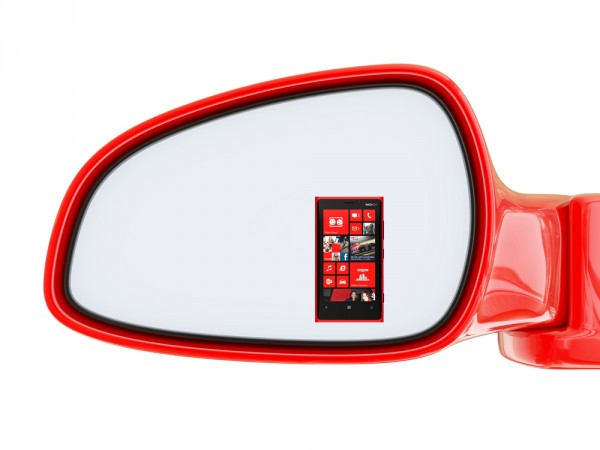 Windows Phone may be the fastest growing major smartphone platform, but its market share still has a long way to go in order to become an imminent threat to Apple's iPhones, let alone Android smartphones. The latest IDC Worldwide Mobile Phone Tracker report shows, once again, Microsoft's tiled mobile OS in the same distant third place, far behind its more popular rivals, despite the impressive 156 percent year-over-year growth in shipments from Q3 2013.
"Android and Windows Phone continued to make significant strides in the third quarter. Despite their differences in market share, they both have one important factor behind their success: price", says IDC research manager Ramon Llamas. "Both platforms have a selection of devices available at prices low enough to be affordable to the mass market, and it is the mass market that is driving the entire market forward". That difference in market share that Llamas mentions is a whopping 77.4 percentage points, between Android's 81 percent and Windows Phone's mere 3.6 percent; put differently, Android shipments (211.6 million units) were 22.27 times higher than those of Windows Phones (at 9.5 million units).
That is a significant improvement over Q3 2012, when the ratio was 37.81. The growth of the tiled mobile OS is sustained by shipments of Nokia Lumia smartphones, which accounted for nearly all Windows Phone shipments. Of the 9.5 million Windows Phones shipped in Q3 2013, 93.2 percent were manufactured by the Finnish company. "Participation from other vendors, meanwhile, still seemed a mixed bag with more vendors participating from a year ago, but volumes still far behind Nokia's own", says IDC.
Compared to Apple's iPhones, Windows Phones are much closer in both shipments and market share. IDC's report places the fruit company's handset shipments at 33.8 million units and the market share at 12.9 percent. The ratio between iPhone and Windows Phone shipments is 3.55. This may not seem like a lot, but IDC (like Strategy Analytics) warns that Apple's smartphones represent a force to be reckoned with: "if the 9 million units sold during the last week of September is any indication of future adoption, iOS stands to reap another record quarter in terms of volumes, market share, and year-over-year growth".
Unsurprisingly, the growth of Android, iOS and Windows Phone shipments came at BlackBerry's expense, among other operating systems, which continues to bleed market share. "Now with a new CEO in place and an infusion of $1 billion, what remains to be seen is how and when the beleaguered operating system will be able to change course in the face of mounting pressure from Android, iOS, and Windows Phone", says IDC.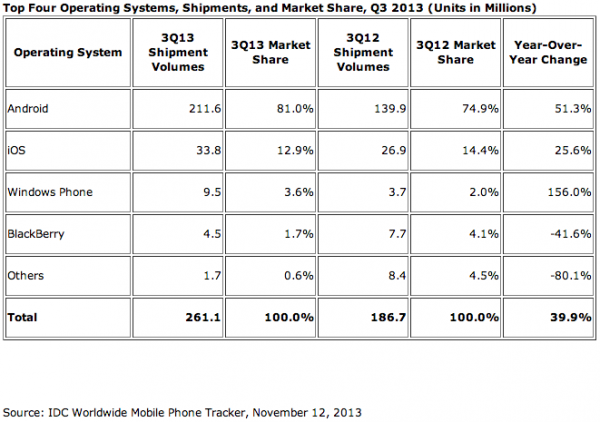 The growth of Android and Windows Phone handset shipments relates directly to the drop in smartphone average selling prices (ASP), as consumers increasingly prefer cheaper models. According to IDC, the smartphone ASP was down by 12.5 percent in Q3 2013 to $317. The phablet segment also suffers the same problem, with its ASP dropping by 22.8 percent to $443 in Q3 2013 from $573 a year ago. Apple also offers the new iPhone 5c, which is cheaper than the iPhone 5s flagship, but its price is considerably higher than most smartphones; it even rivals Android flagships in this regard.
Phablets, Phablets, Phablets
IDC places a great deal of value on having phablets in the manufacturers' lineups, hinting that there may be a direct connection between their availability and their maker's success. "Almost all successful Android vendors have added one or more 5-7-inch phablets to their product portfolios", says IDC program manager Ryan Reith. "And Nokia's recent announcement of the Lumia 1320 and 1520 put them in the category as well. In 3Q13, phablet shipments accounted for 21 percent of the smartphone market, up from just 3 percent a year ago. We believe the absence of a large-screen device may have contributed to Apple's inability to grow share in the third quarter".
This is not the first complaint about the lack of larger iPhones. However, the message that Reith tries to send here is open to interpretation: should Apple make phablets or should its smartphones just have larger screens compared to the existing flagships? I am pointing this out because larger does not translate to phablet-size, nor do iPhone users appear to have a problem with 4-inch panels. In the Android world the general consensus appears to be that small screens belong on low-end smartphones, a belief which is shared by Windows Phone vendors too.
Photo Credit: AlexRoz/Shutterstock