Bloomfire improves integration with Salesforce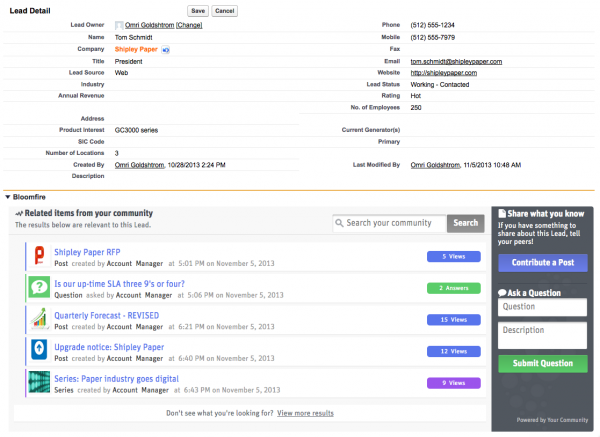 Knowledge management specialist Bloomfire, whose product we looked at a few weeks ago, has announced deeper integration with the Salesforce customer relationship management platform. This will allow users to share information and knowledge with their co-workers without having to leave the Salesforce screen.
Bloomfire began integrating with Salesforce in 2012 when it joined the AppExchange to allow single sign-ons and posts from Bloomfire to appear on the Salseforce Chatter page. The deeper integration will allow sales professionals access to the information they need to close deals, enable them to get questions answered quickly, and share the feedback they receive. From the company's point of view information gathered in Salesforce can be shared without giving all employees access to the package, plus knowledge gained from Salesforce can be used across the organization.
"Many of our customers work in sales or customer support, and they spend most of their day in Salesforce, since it's the industry's leading customer relationship management platform", says Craig Malloy, CEO of Bloomfire. "By more deeply integrating with Salesforce, we are allowing our customers to share knowledge with their colleagues who use Salesforce and those that do not in one place -- improving sales performance and customer service".
Also announced are public leaderboards, these were previously only available to Bloomfire admins, but will now be seen by all users. They enhance the package by displaying the top 10 members in the community in each of three categories -- Producers (most active in creating content), Aces (highest quality content based on hi-fives, views and follows), and Bookworms (consuming the most content based on views, high-fives and questions). Showing rankings on profile pages is intended to help spur friendly competition amongst users and also indicate where an individual's expertise lies.
"Our approach to leaderboards is different than others because we provide multiple leaderboards so that we can reward different ways of participating -- all of which are important to the growth of an organization", says Malloy.
More information about the product and a free trial is available on the Bloomfire website.