Amazon wants to put your picture on a Kindle case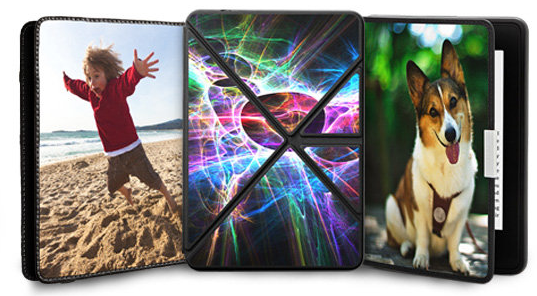 The Kindle has been big news recently, with Amazon rolling out a new version of its Fire HD, as well as 7 and 8.9-inch versions of a brand new Kindle Fire HDX, the latest iteration of its Android tablet. Not stopping there, the retailer introduced a case known as the Origami, but now has taken it one step further, with a personalized version of your own choosing.
"Customers can now design their own Amazon Origami covers and a variety of other covers and skins for Kindle by uploading photographs from their own library, choosing from a variety of Amazon designs made exclusively for Amazon Origami covers, or choosing from a library of hundreds of images, logos, designs and patterns—including popular comic, movie and television show graphics from Peanuts, National Geographic, Breaking Bad, Star Trek, and more", states Amazon.
The Origami is a magnetic case which holds the tablet firmly in place, provides a flap cover that, when opened, automatically turns the device on, and also acts as a stand.
The Origami case retails for $44.99, and Amazon will not charge any extra for the customization. "Designing your own Kindle accessories is easy -- simply find your Kindle below and click to select a cover, case, or skin to suit your needs", states the new design site.