Cupcloud lets you save your work, then restore it later on any PC or Mac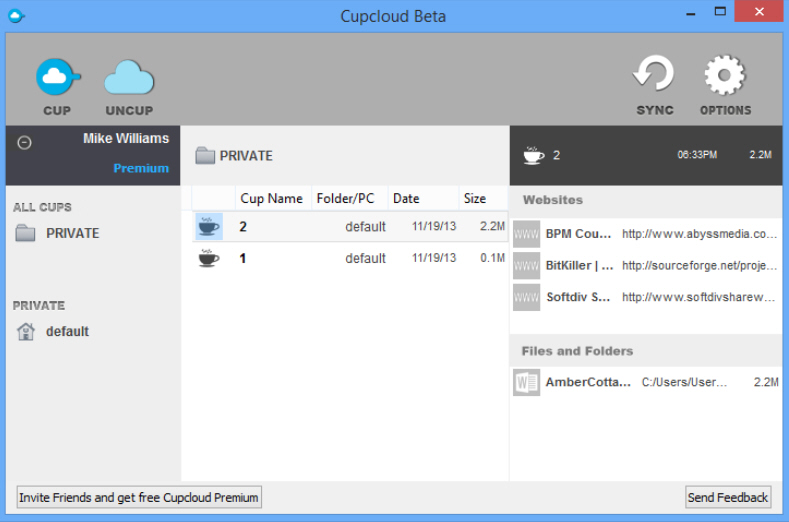 You're at work, tied up with some major project: browser tabs are open, maybe a Word document, while you're adding polish to some graphics in Photoshop. And deadlines are looming, so you'd like to carry on at home. What do you do?
If you've set up a syncing service like Dropbox then your key documents will probably be accessible already; if not, you can always just copy them to a USB key. But for real convenience, you might prefer Cupcloud. Click "Cup" and your application states are saved; click "Uncup" later, on this computer, or another PC and Mac, and the programs reopen, just as they were. Easy.
Cupcloud doesn't support many applications, but there are enough to be useful. So you can save and restore the state of Internet Explorer, Chrome and Safari; Word, Excel and Powerpoint; Adobe Photoshop, Illustrator and Acrobat; Windows Explorer and Apple iWork. And the Cupcloud site tells us that more programs are "coming soon".
Better still, a planned Premium version will one day allow you to share your cups with others, great for collaborating with others.
The service does have a few hassles. You must create an account before you start; the free edition will have ads (although it doesn't just yet), and only allows the latest 30 cups to be restored.
There are potential security and privacy issues, too. When you click "Cup" the client doesn't ask which open documents you'd like to share; it just uploads everything to the cloud. If you wanted to share your browser tabs and a Powerpoint presentation, but also had Word open with some confidential document, then you've a problem: they'll all be uploaded. And while you can delete the contents of a cup later -- delete a file, folder or URL -- you're probably not going to remember to do that, each and every time.
Despite these problems, Cupcloud is a likeable service, easy to use, which worked faultlessly in our initial tests. If you use several of the supported applications across multiple computers then it could save you quite some time.