Acer Aspire R7 gets the Haswell treatment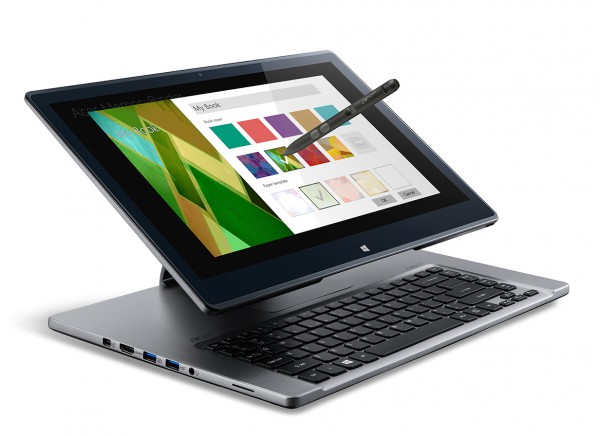 On the weekends, I often go to Best Buy with no intention of buying anything. In other words, I am a technology window-shopper. It is actually quite interesting to observe the habits of consumers while playing with the latest gadgets. While I typically visit all sections of the store, I make it a point to stop and play with one of my favorite computers -- the Acer Aspire R7. Sadly, I am not yet in need of a new computer, so I always leave without buying it.
This laptop is special to me because in a sea of similar devices, this one stands out. You see, it features some unique features such as the patented Ezel-Hinge, which allows the display to be manipulated into a myriad of positions; including a tablet mode. However, it also features a trackpad positioned above the keyboard, rather than below. Is your mind blown? Boom.
Today, Acer reveals that the laptop which I covet is getting an upgrade. The company announces "immediate availability of the new Aspire R7-572, the second generation of Acer's revolutionary notebook that redefined the touch and type computing experience through its unique Ezel-Hinge. The Ezel-Hinge allows the display to flip, reverse, lie flat or float above the keyboard to maximize usability".
"The R7-572 is a full featured notebook PC featuring Windows 8.1 with a 15.6-inch Full HD 1920x1080 touchscreen display with IPS technology, a 4th Generation Intel Core i5-4200U processor, 8GB of memory, a 1TB hard drive, and a full-size backlit keyboard. It also includes a volume control button, HDMI port, SD card reader, audio jacks, three USB ports, WiFi, Bluetooth and a convenient converter port supporting VGA, RJ45 and USB. For those who want connect to a big screen TV, WiDi makes it easy to connect wirelessly", says the company.
In other words, the already impressive laptop is getting a litany of spec bumps, with the most important being the Intel Core Haswell processor. This CPU will improve speed, but more importantly for many users, it will dramatically increase battery life.
The Aspire R7-572 is sold exclusively at Best Buy (online and brick-and-mortar) for a very reasonable $899.99, while the stylus is $49. So head on over to the retailer now and check it out. Who knows, maybe you will actually buy it as opposed to just playing with it every week, like me.