Best Windows 8 apps this week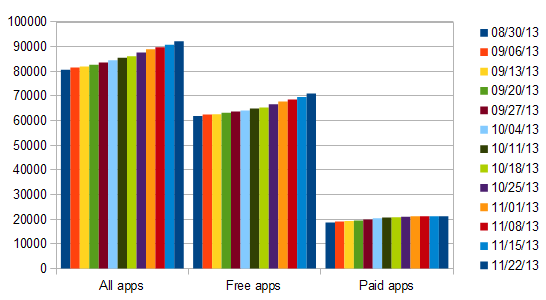 Fifty-sixth in a series. Microsoft has changed the layout in Windows Store slightly this week. The main screenshot size on each apps' Windows Store page has been increased significantly, so that screenshots take up more than half of the screen on a 1920 by 1200 monitor.
The overall growth of applications has accelerated again this week as 1,351 new apps were published in the last seven days.
The total number of apps in the US Windows Store grew to 92,199 free and paid applications.
Free applications rose by 1,423 apps in total, while paid applications and desktop programs dropped by 72 in the same time.
A total of 71,035 free apps and 21,164 paid applications are now available in Microsoft's US Windows Store.
Microsoft introduced Red Stripe Deals in the store this week. It features three popular apps or games each week that are at least 50 percent off their usual price. These deals start on Thursdays and end on the following Wednesday.
We will feature those deals here each week, so that you won't miss any sales in the store.
Three games are featured this week: Joining Hands 2 for $1.49 instead of $3.49, Einstein Brain Trainer for $2.99 instead of $5.99, and Reckless Racing Ultimate for $2.49 instead of $4.99
App of the week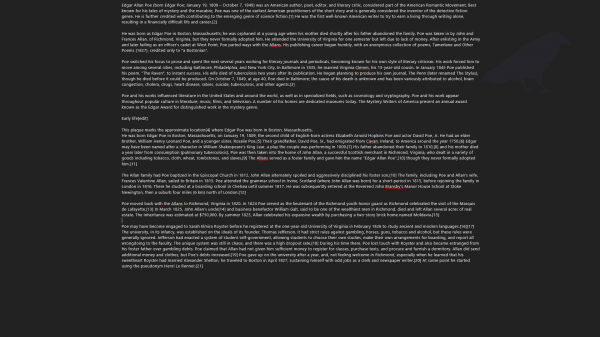 Poe is the second distraction free writing application after Write++ which I covered two months ago.
The app opens up a page that is blank for the most part on launch. You can start writing right away, paste text into the interface, or use the load option instead to open a text document.
Poe displays spelling errors which you can correct by right-clicking on them to select one of the available suggestions, or by adding the word or phrase to the dictionary instead.
The right-click menu displays options at the bottom of the screen. Here you can open plain text documents, save or print, find text in the current document, enable word count and other statistics, or use the lookups feature to load services such as Wikipedia, Evernote, Google Maps, Slickwrite or Google Translate in one half of the screen.
The other half of the screen is covered by the Poe application, so that you can use this particular layout to write and research at the same time.
The application ships with three default themes and a custom theme option that you can use to select your preferred foreground and background color, as well as font size and editor width.
Other apps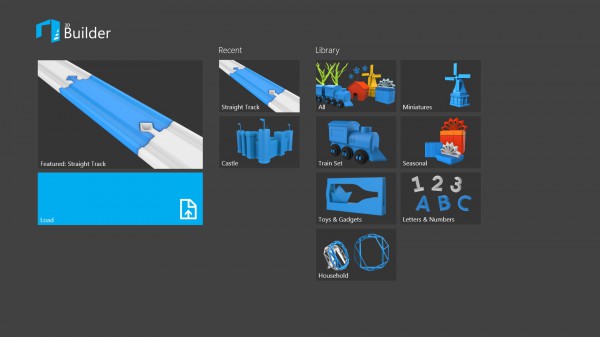 Microsoft's 3D Builder application for Windows 8.1 provides you with options to view, prepare and print 3D models on 3D printers connected to the computer system.
You can use it to import your own objects from the local system, or play around with the objects that Microsoft has added to the library.
The viewer supports zooming in and out of models, rotating them, duplicating the entire model, or deleting it again.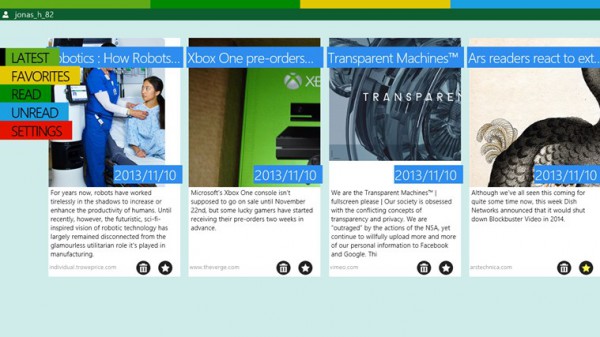 The third party Pocket client enables you to access the websites that you have saved to the service either by using the integrated share to PostPwn option when using Internet Explorer, or any of the other Pocket clients or browser extensions available.
Websites can be added to the favorites, archived, or deleted using the client application.
Riptide GP2 ($2.99 no trial)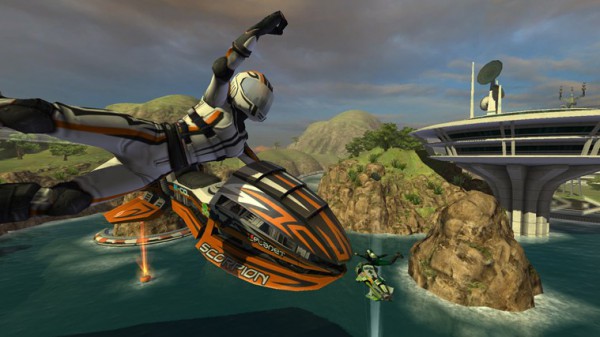 Riptide GP2 is the second installment of the water racing game for Windows 8.  If features a career mode in which you have to compete in more races against computer opponents, an upgrade system to buy faster hydro jets and upgrade them for better performance, and options to race against ghosts recordings of your friends to find out who is the best racer on the block.
The game supports touch screen controls, tilt and accelerometer, gamepads and keyboard input.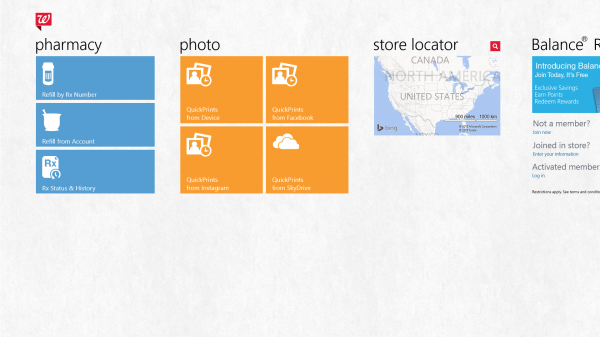 The official Walgreens application for Windows 8 comes with a store location that you can use to find the shop nearest to your current location.
You can use it to scan barcodes on prescription bottles for near-instant refills, transfer prescriptions to Walgreens, or for reminders so that you are notified when it is time to refill a prescription.
The Balance Rewards system provides members with additional benefits including exclusive savings and options to redeem rewards in store or online.
RSS Reader Live is a simple RSS feed reader for Windows 8. It is not comparable to heavyweight programs and services such as Feedly or -- my current favorite -- QuietRSS, but it may get the job done as well.
If you already have a feed list, you may run into importing issues as there are no options to do that. All you can do is add individual feeds to the application which is not practical at all if you want to add more than a couple of feeds to the app.
On the plus side of things, it uses a layout that is easy on the eyes, and supports both live tile, Toast and lockscreen notifications.